Visiting the World Famous Monasteries of the Meteora
Written by GreekBoston.com in About Meteora, Greece, Greek Travel Guide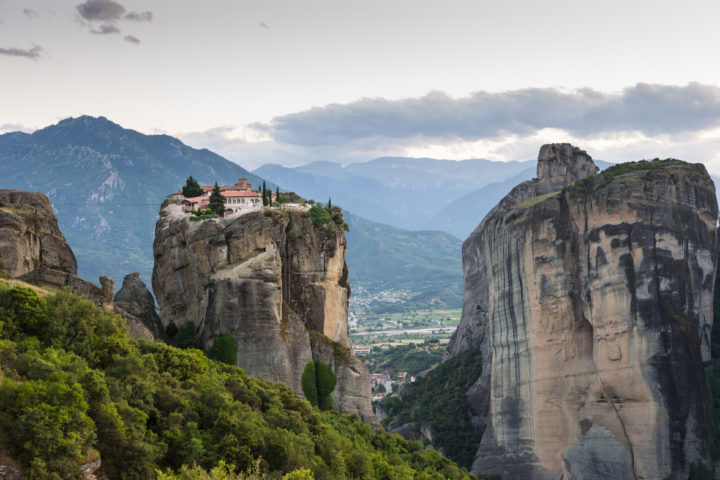 The Meteora, located in northwestern Thessaly near the town of Kalampaka is one of the most visited sites in Greece. Its gigantic rock pinnacles rise up to 984 feet and feature world famous monasteries that once served as refuge to pious hermits. For centuries jointed ladders and nets were the only way to approach the rocky peaks but today stone bridges, stairs, and paths guide visitors to the six monasteries of the Meteora that are still in use and open to the public.
During a trip to the Meteora, the Nikolaos Anapafsas monastery is the first monastery you'll come across. Dating from the late 15th century, this monastery is typically uncrowded since visitors choose to spend their time at the larger monasteries. Yet, Nikolaos Anapafsas shouldn't be passed over. It features lively and expressive 16th century frescoes.
The Varlaam monastery is the closest monastery to the famed Megalo Meteoro and is reached by a bridge and a climb of 195 steps. Its churches main attraction is its 16th century frescoes that cover the walls, beams, and pillars. Set around a pretty garden, it has a small museum.
Set on the lowest rock, the Ayia Barbara monastery was the only nunnery in the entire complex centuries ago. It is accessible via a small wooden bridge and is best known for its colorful gardens.
The Megalo Meteoro monastery is the highest, grandest, and most popular of the Meteora monasteries. Built with massive stones 1,361 feet above the valley floor, it is reached by a stiff climb of more than 400 steps. In the 14th century, it became the richest and most powerful monastery.
Isolated from surrounding cliffs, the Ayia Triada monastery is shouldered high on a rock pinnacle. The main church was built in 1476 and its frescoes were added more than 200 years later. The monastery is reached via rock tunnels and 130 stone steps. It is noted for a scene in the 1981 James Bond film, "For Your Eyes Only".
At the far eastern end of the Meteora, the Ayios Stephanos monastery is its oldest. Today, it's a convent where nuns spend their time painting, writing, studying, and selling religious souvenirs.
If you plan to visit the Meteora monasteries, there are a few things to keep in mind. First, proper etiquette must be followed. Men must wear trousers and women must wear skirts below the knee and no bare shoulders are allowed. Second, if you want to see all or most of the monasteries you will need to start your day early and take your own transportation. The buses have limited hours.
In addition to visiting the monasteries, the Meteora is also a popular place to go rock climbing and draws rock climbers from around the world. There are more than 100 peaks and towers that climbers of various skill levels can enjoy. There are also several days' worth of monopatia (monk paths) that can be explored by foot.
Categorized in: About Meteora, Greece, Greek Travel Guide
This post was written by GreekBoston.com
Like this article? Please share below: