Monasteries to Visit in Rethymno, Greece
Written by GreekBoston.com in About Rethymno, Greece, Greek Travel Guide Comments Off on Monasteries to Visit in Rethymno, Greece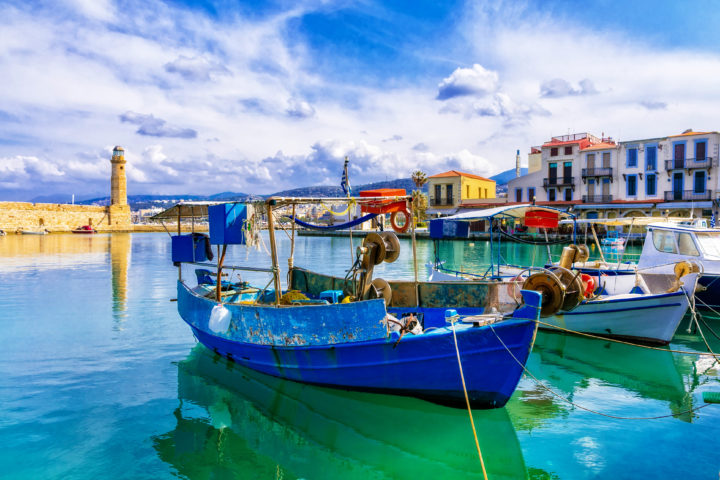 Rethymno, Greece is a historic city that is considered to be one of the most well-preserved medieval towns in Greece. The Venetian mansions, Byzantine buildings, and Ottoman mosques are wonderful to explore. When visiting Rethymno, Greece, you will want to visit some of the beautiful monasteries.
Monastery of Timios Stavros Vosakos
Built during the 17th century, the Monastery of Timios Stavros Vosakos is in a plateau between the peaks of the Talean Mountains at the north side of the prefecture. The style of the monastery of fortified architecture. The monastery complex is arranged with three wings around the main church.
There is also a lovely fountain that dates to the 17th century on site. Another beautiful spot at the monastery is the monumental gate with two small rooms. Inside the monastery, you can see the raki distillery, open-air wine-press, and wax workshop. The Monastery of Timios Stavros Vosakos is dedicated to Holy Cross.
Nunnery of Agia Irini
Located at the foothills of Mount Vrysinas and close to the settlement of Agia Irini, is the Nunnery of Agia Irini. The nunnery was built during the 14th century and is thought to be one of the oldest in Crete. The style of the Nunnery of Agia Irini is of defensive fortified architecture. Inside the nunnery, the nuns hold painting workshops and embroidery workshops in hopes of keeping these traditions of Crete alive. The Nunnery of Agia Irini was awarded the prize for Cultural Heritage Europa Nostra.
Monastery of Atali
The Monastery of Atali is located above the settlement of Bali. The location of the monastery offers a breathtaking panoramic view of the Cretan Sea. The Monastery of Atali was built during the 17th century and its style belongs to the Renaissance period. The monastery was used as a supply center during the Greek Revolution of 1821. Inside the monastery of Atali, you can see an old olive press, a lovely courtyard, and the monk's cells, which have their own distinctive architecture.
Monastery of Preveli
Located on the western slopes of the Palm Grove of Preveli is the Monastery of Preveli. The complex of buildings that make up this monastery include the Lower Monastery of Agios Ioannis Prodromos, which is now deserted, and the Back Monastery of Theologos, which remains in operation today. On the bell of the monastery the year of 1594 is engraved. This is the oldest date that is related to the Monastery of Preveli.
The monastery is thought to have been founded during the Venetian occupation by a feudal lord by the name of Prevelis. For three centuries, the Monastery of Preveli was a very important center. There is a small museum at the monastery where you can view collections of icons, garments, heirlooms, and vessels. Icons cover themes dating from the 17th century to the 19th century.
Visiting the monasteries of Rethymno, Greece will allow you insight into the history and spirituality of the city.
Categorized in: About Rethymno, Greece, Greek Travel Guide
This post was written by GreekBoston.com
Like this article? Please share below: