Museums to Visit in Marathon, Greece
Written by GreekBoston.com in About Marathon, Greece, Greek Travel Guide Comments Off on Museums to Visit in Marathon, Greece
Marathon is a town located approximately 40 km from Athens. The town was named for a fennel herb that grows in abundance in the area. Marathon's claim to fame is that the marathon race is named after the town. In 490 BC, the ancient town of Marathon was the site of the Battle of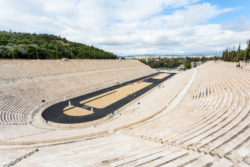 Marathon, which would find the outnumbered Athenian army defeating the Persians. A Greek herald by the name of Pheidippides was sent running from Marathon to Athens to deliver news of the victory. This would inspire the modern marathon running race.
Marathon has a lot of history to offer and because of this, there are a couple of museums that you should be sure to visit when in Marathon, Greece.
Marathon Run Museum
The Marathon Run Museum presents a permanent exhibition of the history of the Olympic Marathons from 1896 – present. There are over 4,000 exhibits that showcase the Olympic Marathons. There are two major sections of the exhibition: the history of the Olympic Marathon as shown through rare objects and thematic sections that explore the races held around the world. Presented are equipment of athletes, women in marathon races, and Olympic champions. You will see the medal of the very first road race winner Spyros Louis. There is also a copy of the cup he was awarded in 1896 and some of his belongings. Many other marathoners are showcased at the museum. Anyone with an interest in the Olympic games must visit the Marathon Run Museum. You will be fascinated by exhibitions that you won't see anywhere else.
Archaeological Museum of Marathon
The exhibits at the Archaeological Museum of Marathon span from prehistoric times to the Late Roman era. Showcased are items that come from excavated sites, mostly cemeteries. The museum features pottery of the Neolithic Period, which comes from the cave of Pan. There is Early Cycladic pottery, which comes from the cemetery at Tsepi. Also featured are statues and architectural parts from the Egyptian sanctuary dating back to the 2nd century AD. Considered the most important exhibits include a funerary Panathenaic amphora dating to the 4th century BC, a statue of a laying diety from the Pythenion at Oinoe dating to the 2nd century AD, and the head of Herodes Atticus from the Tumulus (grave mound) dating to the 2nd century BC. The museum is located close to the tumulus of Marathon. If you're interested in archaeology and learning about the local culture of Marathon, this museum is worth a stop.
Marathon Battlefield and Museum
If you want to see the location where the Marathon Battle took place up close and personal, you can! Admission costs gets you into the museum as well as to the burial mound. 192 Athenians who died in this victorious battle were cremated and buried together in the mound.
Marathon is a town rich in history. If you're visiting Marathon and want to immerse yourself in its history, checking out at least one of these museums should be on your to-do list.
Categorized in: About Marathon, Greece, Greek Travel Guide
This post was written by GreekBoston.com
Like this article? Please share below: