Outdoor Sports to Enjoy in Kimolos, Greece
Written by Greek Boston in About Kimolos, Greece, Greek Travel Guide Comments Off on Outdoor Sports to Enjoy in Kimolos, Greece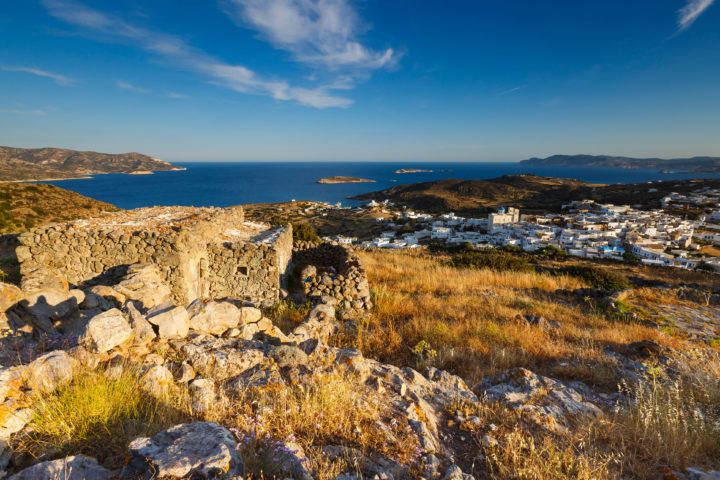 The Greek island of Kimolos is a beautiful and unique place with rare geological monuments, breathtaking architecture, and relaxing beaches. The island is also rich in ancient cities that lay underwater, landscapes that will catch your eye, and rare bird species. When spending time on the island of Kimolos, you can indulge in your love of outdoor adventure. Here are some of the outdoor sports available in Kimolos, Greece.
Go Diving Around Kimolos Island
The coastline of Kimolos Island is varied, which offers exciting opportunities for divers. Being so close to the larger island of Milos adds to the diving experience you can have. The triangle of sea that is found between the three islands of Kimolos, Milos, and Polyegos is rich in diving sites that include beautiful reefs, shipwrecks, flora and fauna, and even an old submerged church. The Cave of Poseidon is a wonderful dive side at Kimolos Island. The sea triangle between the islands is also a breeding spot for the monk seals known as Monachus Monachus. During a dive, you may be lucky enough to see these seals. Hellinika Beach in Kimolos is home to a diving center.
Go Hiking Around Kimolos
Kimolos has a rich network of old paths that connected the capital village of Chorio with the scattered natural resources of the island. When the roads were created on the island, they left these path intact allowing wonderful hiking opportunities for locals and visitors. Hiking around Kimolos Island will allow you that chance to see the varied landscape.
One lovely hiking route will take you from the ring road of Chorio Village and takes you to Mount Sklavos and Agios Efstathios Chapel. This hike will also lead you to the chapel of Exo Ai Lias that will offer you a wonderful panoramic view in reward. If you are looking for a challenging hike, the route from Epano Mirsini to Faros is a 3.5 hour long hike that is considered difficult. There are a number of hiking paths around the island of Kimolos for every level of difficulty and various lengths.
Go Off-Roading Around Kimolos Island
If you enjoy fast adventures, you will love the off-roading experience that Kimolos has to offer. Dirt roads lead to the mountains which offer a wonderful opportunity to explore hidden areas you might not otherwise see. One off-roading route you might enjoy begins at the southern ext of Chorio and leads you to the chapel of Agios Minas. At the chapel, there is a dirt road that begins and will lead you past the landfill until you come to three roads that meet. Choosing the road to the very right will lead you to Monastiria Beach.
Enjoy Bird Watching
Thanks to the flora and fauna of the island, rare bird species make Kimolos their home. This is especially true at Alyki Lake. Alyki Lake is located near a beach of the same name. The lake hosts migratory birds during the winter and spring. Over 260 species call Alyki Lake home, including herons and swans. You can also take a boat to the uninhabited island of Polyaigos, which is another ideal bird watching spot.
Kimolos is an incredibly beautiful place, and these outdoor sports offer great ways to enjoy it!
PLEASE NOTE: The Greek travel section at GreekBoston.com are not paid reviews. Our unbiased and informative travel articles are designed review the popular cities, islands and places in Greece. We are not always able to exactly match the photos to the destinations, but we do try to get close. However, we are not looking for photo submissions at this time. If you find something in a Greek travel article that is not accurate based on your personal experience, please send us an email to greekboston@worldwidegreeks.com and we will consider your suggestions. Thanks for reading the travel section at GreekBoston.com!
Categorized in: About Kimolos, Greece, Greek Travel Guide
This post was written by Greek Boston
Share this Greek Travel Article: