Prominent Attractions in Patmos, Greece
Written by GreekBoston.com in About Patmos, Greece, Greek Travel Guide Comments Off on Prominent Attractions in Patmos, Greece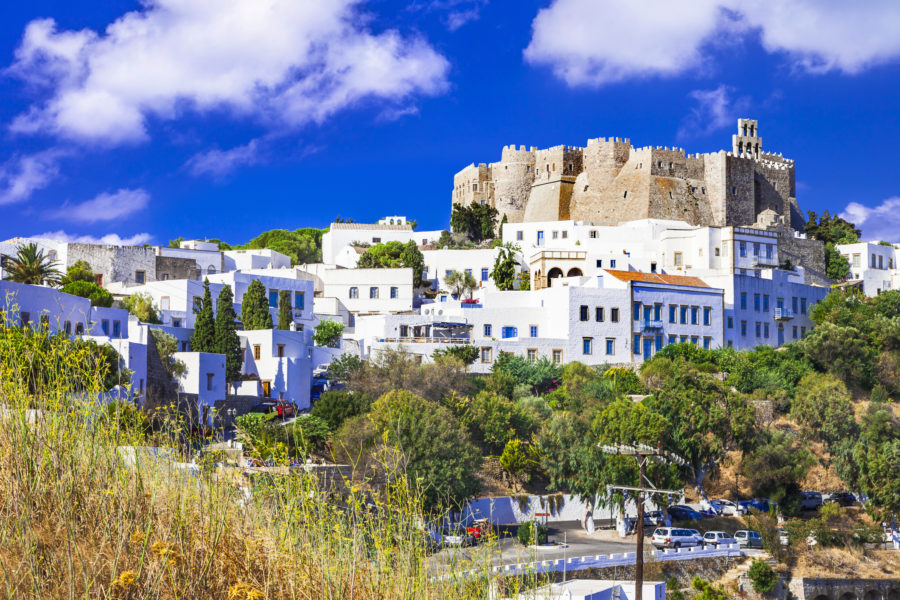 Patmos is a Greek Island in the Dodecanese group in the Aegean Sea. The island of Patmos is known for being an important Christian pilgrimage site. The island features whitewashed houses, cobblestone alleys, and charming squares. The natural beauty of the island is seen in the impressive cliffs, colorful gardens, lovely bays, and amazing sunsets.
Visiting the island of Patmos is an experience you can make memorable by visiting some of these prominent places.
Kambos Beach
Kambos Beach is likely one of the most organized beaches in all of Patmos. The beach is a couple of kilometers long with lots of trees for shade on hot and sunny days. The water is clean, shallow, and perfect for the water sports available. Water sports at Kambos Beach include canoeing, sailing, and windsurfing to name a few. There are seaside taverns nearby and getting to Kambos Beach is convenient thanks to regular buses that link Kambos to Skala.
Cave and the Monastery of the Apocalypse
The Cave and the Monastery of the Apocalypse is connected to the important Christian pilgrimage that occurred on the island of Patmos. This attraction is located between the villages of Skala and Chora. The cave is formed from rare volcanic rock. The cave is where Saint John lived and wrote. Today, there is a monastery and church at the site that weren't there during the time of Saint John. Saint John was exiled to the island in 95 AD and he would write the Apocalypse, the last book of the New Testament there.
Agriolivado Beach
8 km north of Chora, you will find the beach of Agriolivado. This organized beach can get busy during the summer months, but if you don't mind crowds, it's definitely worth a visit. Agriolivado Beach is 3 km from Skala, the main port of Patmos Island. There are sun beds and umbrellas available at this clean beach and the waters are perfect for swimming. While relaxing on the beach, you will have a lovely view and atmosphere to enjoy.
Ecclesiastical Museum of Patmos
The Ecclesiastical Museum is located on the premises of the Monastery of Saint John. The museum is small, but very important. It showcases icons from the Byzantine and post-Byzantine times. There are manuscripts, items used during Holy Mass, vestments, and more. There are objects of the monastery of Saint John the Theologian exhibited at the museum.
One of the important icons in the Ecclesiastical Museum is an 11th century icon of Saint Nicolas who is depicted standing, giving blessing with his right hand while holding a book in his left. While visiting the museum, you should also see the Monastery of Saint John as well. The monastery was founded in 1088 and consists of high protective walls and two towers. It is also home to a significant monastic library.
The island of Patmos is home to some prominent attractions and beaches that should be on your must-see list.
Categorized in: About Patmos, Greece, Greek Travel Guide
This post was written by GreekBoston.com
Like this article? Please share below: