Patmos Offers Visitors a Peaceful Retreat
Written by GreekBoston.com in About Patmos, Greece, Greek Travel Guide Comments Off on Patmos Offers Visitors a Peaceful Retreat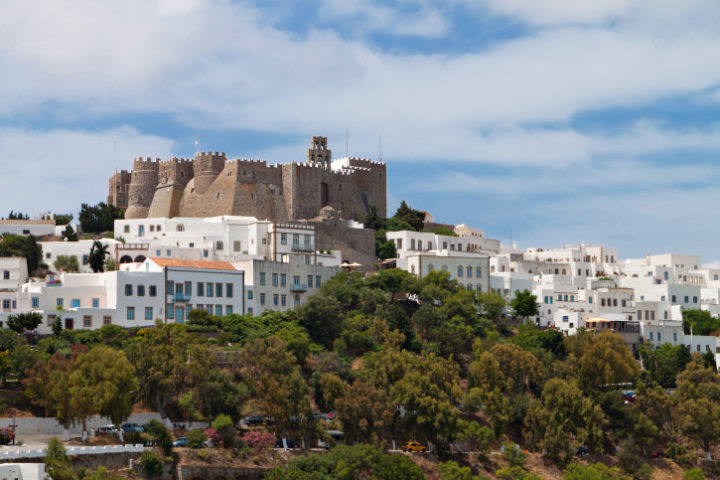 Patmos is a small Dodecanese island at just 21 square miles. Located beyond Kalymnos and Leros, northwest of Kos, it is difficult to reach which means that it remains unspoiled and is the perfect spot for a retreat away from the major tourist destinations.
Of course, that isn't to say that Patmos isn't worth visiting. In fact, it has become a popular destination for vacationing Athenians and has a growing community of designers, artists, and poets. Patmos is perhaps best known for its spiritual presence and is popular among people making pilgrimages to the Monastery of the Apocalypse. The island is considered to be hallowed ground and more than 300 churches have been erected here over the centuries.
Skala is the main town of Patmos and is a popular port for cruise ships. Almost all of the hotels and restaurants on Patmos are located here. Most of Skala is closed to cars.
South of Skala on the hill is the medieval town of Chora, home to the legendary monasteries of Patmos. From Skala, you can walk up the hill to Chora, but because the incline is so steep you may be better off taking a bus or taxi. At Chora you can find the Monastery of the Apocalypse where, according to tradition, St. John the Theologian wrote the text of Revelation in a little cave, the Sacred Grotto, which is now built into the Monastery. The Monastery was constructed in the 17th century from architectural fragments of earlier buildings and is accessible via several flights of outdoor stairs. The complex contains chapels to St. Artemios and St. Nicholas.
Each year in August or September the Monastery of the Apocalypse hosts the Festival of Sacred Music of Patmos, which features world class Byzantine and ecclesiastical music performances. The Monastery of St. John the Theologian can be found high on a perch at the top of Chora. It has been a center of learning since the 11th century and the complex consists of the 17th century Chapel of the Holy Apostles, 11th century main church, and 12th century Chapel of the Virgin. The treasury contains relics, icons, silver, and vestments.
Because Patmos is considered a spiritual place of tradition, it doesn't offer much in the way of nightlife. Like all Greek islands though, there are plenty of beaches. On the north, the nicest beaches are on the northeastern coastline. The northwestern coastline is rocky. On the south, there are two popular beaches: Grikou Bay and Psili Ammos.
There is no airport in Patmos. Daily ferry service from Athens takes 7 hours and runs daily during high season. Or, travelers can fly to Kos and then take the 2-hour catamaran from there.
Categorized in: About Patmos, Greece, Greek Travel Guide
This post was written by GreekBoston.com
Like this article? Please share below: