Shopping for Jewelry in Monastiraki in Athens
Written by Greek Boston in About Athens, Greece, Greek Travel Guide Comments Off on Shopping for Jewelry in Monastiraki in Athens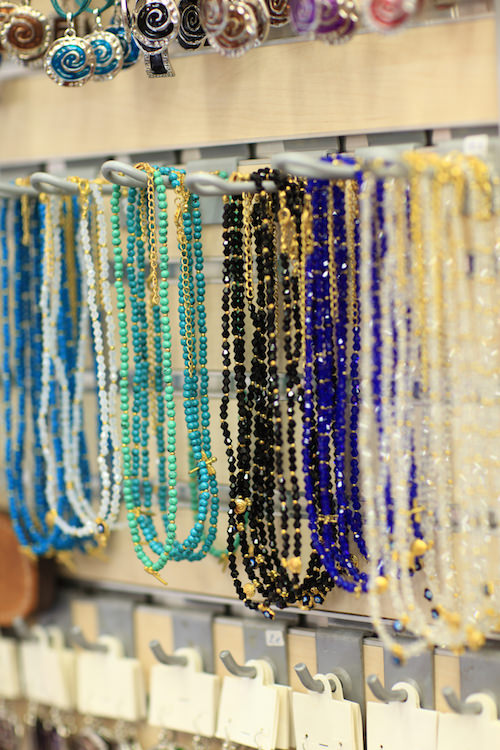 Although the shopping area in Monastiraki Athens, Greece is referred to as a "flea market", that doesn't give a full picture of what it actually is. On Sundays, many of the storefronts are closed and people do set up tables selling their used wares. However, for the rest of the week, it is more like a traditional bazaar than a flea market. Here, you can find just about anything, and it is the perfect place for those who visit Greece to find some great deals. In fact, this is one of the best places in the city to buy jewelry, as long as you know what you're doing. Here are some tips that will help come in handy if you try to buy jewelry at the Monastiraki market in Athens.
Don't Buy Precious Gems
You have your eye on a beautiful sapphire and white gold ring and you're pretty sure that the shopkeeper is about to give you a great deal. No matter how great the deal seems, you may want to rethink your decision to buy the ring. When it comes to buying fine jewelry, it is all too easy for those precious gems to be fakes. Most people can't spot them with their eyes and some imposters are so close to the real thing, it would take careful scrutiny by a gemologist to really determine if it is the real thing. That's not to say that you are getting ripped off. You could very well be getting a great deal on the real thing – but why take that chance if you don't know for sure? Save your money and buy fine jewelry that you can verify as being the real thing.
Know the Price of Gold
Before you start looking at the jewelry, you should look up what the actual price of gold is and understand how that translates to the jewelry that you'll be buying. Granted, when you buy a piece of gold jewelry, other things factor into the price, such as the cost of the designer and the markup by the store. However, knowing the price of gold will help you determine where the prices stand and if they are reasonable. If they aren't, you'll know that you need to negotiate a better price elsewhere.
Always Use Your Credit Card
When it comes to buying jewelry in Greece in general (and of course in Monastiraki!), especially jewelry that is marketed as being the real thing, you should steer clear of any store that only accepts cash. This could be a sign that the shop owners know that the jewelry they are selling isn't actually the real thing. If you don't use a credit card, they know that there will be no repercussions. On the other hand, you should always use your credit card, even if they charge an extra fee. That way, if you get home and realize that the shop sold you a fake, you can dispute the charge and not be liable. You simply explain to the credit card company that they told you the jewelry was real and it actually wasn't.
You can find some great deals for jewelry when shopping at Monastiraki in Athens – as long as you take this advice!
PLEASE NOTE: The Greek travel section at GreekBoston.com are not paid reviews. Our unbiased and informative travel articles are designed review the popular cities, islands and places in Greece. We are not always able to exactly match the photos to the destinations, but we do try to get close. However, we are not looking for photo submissions at this time. If you find something in a Greek travel article that is not accurate based on your personal experience, please send us an email to greekboston@worldwidegreeks.com and we will consider your suggestions. Thanks for reading the travel section at GreekBoston.com!
Categorized in: About Athens, Greece, Greek Travel Guide
This post was written by Greek Boston
Share this Greek Travel Article: