Negotiating the Best Deal When Shopping at Monastiraki in Athens
Written by Greek Boston in About Athens, Greece, Greek Travel Guide Comments Off on Negotiating the Best Deal When Shopping at Monastiraki in Athens
The market at Monastiraki in Athens is a favorite shopping area for locals and tourists alike. It has a bustling, lively atmosphere and you can find just about anything you want here! You can also find some deals, especially if you know how to shop here properly. Most Greeks know exactly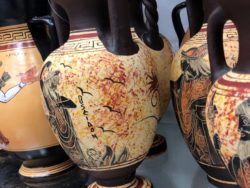 how things are done here, but those who are from other places, such as Greeks who are born in other countries, like the United States, may not know how to negotiate for the best deal.
Here's a quick guide that will help you navigate the market and have the best shopping experience at Monastiraki Athens and that you can get the best prices:
Negotiating is Part of the Culture
Before you begin shopping, it helps to understand that negotiating is actually part of the culture. Most things don't have prices listed on them for a reason. The staff at the shop knows exactly how low of a price they can accept and still turn a profit and even then, things can be up for discussion under certain conditions. Get into the mindset that when you buy something here you'll need to negotiate the price.
Speak Greek if You Know the Language
Another thing that can help you find the best deals at the Monastiraki market is to speak Greek, even if you're not completely confident in your language skills. The reason for this is very simple – you need to let them know that you know how things are done here and if you speak Greek, you're telling them that you understand the process and will get the better prices. If they label you as a tourist and they suspect that you don't understand the Greek culture, you may end up paying higher prices. If you don't know Greek, don't worry – you can still negotiate for the better prices if you're confident. However, it's much easier to do that if you can do it in Greek.
Don't Be Afraid to Walk Away
In order to find the best deals, you need to be willing to walk away from the items that you want. There's a good reason for this. First of all, if the shopkeepers suspect that you're willing to walk away, they may end up agreeing to the price that you want to pay them before you can leave. Not only that, but if you do walk away from the negotiations, chances are extremely high that you'll be able to find the item again in another stall. You can then try at another shop to get the price you want. You'll also want to walk away if a negotiation starts to go bad and the discussion gets heated or they get upset. You wouldn't want the situation to escalate!
Learn the Art of Bundling
Do you have a lot of items you need to buy? Let's say you are buying a bunch of touristy items, such as t-shirts, coasters, postcards, etc, but you also want to buy some special, expensive items that were handmade by locals. A great tactic for getting what you need at really good prices is to buy all these items at once from the same stall. Most of the touristy items were likely made outside of Greece fairly inexpensively, which means that they are more likely to sell you these items at cost, as long as you are buying a few larger items that will give them a really good profit.
Using these tips, you'll be able to find the best prices at markets such as Monastiraki in Athens. Once you get some practice, you'll understand how easy it is to find the prices that you want.
PLEASE NOTE: The Greek travel section at GreekBoston.com are not paid reviews. Our unbiased and informative travel articles are designed review the popular cities, islands and places in Greece. We are not always able to exactly match the photos to the destinations, but we do try to get close. However, we are not looking for photo submissions at this time. If you find something in a Greek travel article that is not accurate based on your personal experience, please send us an email to greekboston@worldwidegreeks.com and we will consider your suggestions. Thanks for reading the travel section at GreekBoston.com!
Categorized in: About Athens, Greece, Greek Travel Guide
This post was written by Greek Boston
Share this Greek Travel Article: