Tour the Temple of Aphaia in Aegina
Written by Greek Boston in About Aegina, Greece, Greek Travel Guide Comments Off on Tour the Temple of Aphaia in Aegina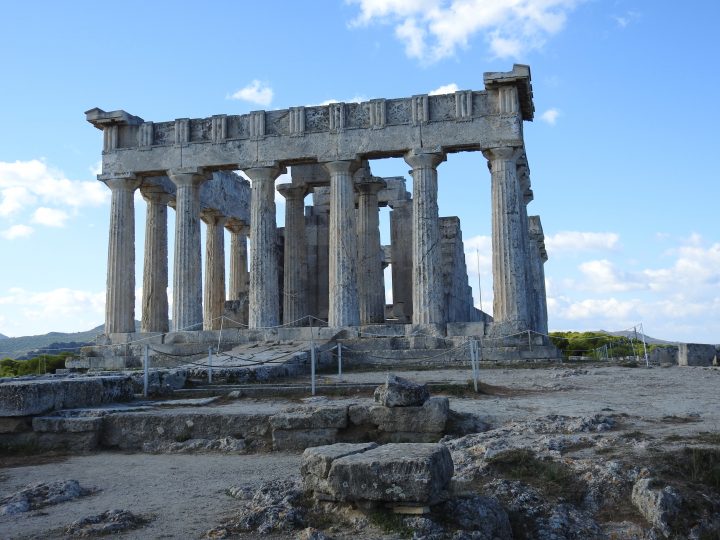 If you are looking for a place rich in beauty, history, and culture, then the Temple of Aphaia in Aegina is a great place to see. The temple is located on the island of Aegina, Greece, and should be on your list of places to see while visiting this regio of Greece. Here's more information about it:
About the Temple of Aphaia
The Temple of Aphaia is one of the best-preserved Doric temples and is especially important for its sculptural decoration. It was built built by order of King Aphais and his wife Queen Euippe in 600 B.C. As you enter the temple, you see a large hall with two columns that are made from marble and limestone.
There is also a statue that depicts Nike, a Greek goddess who personifies victory in this area. It's believed that Queen Euippe wanted to commemorate her husband's victory at sea against Egypt during the war between these two ancient nations – as well as her own victories over Persian invaders.
The design of the temple has a very strong, monumental appearance – you cannot help but be impressed by its size. It also appears to have an altar or something similar in front of it – which gives visitors a glimpse into religious ceremonies that were once held here at this spot.
It also features a double row of columns that have been restored from the original structures. It was originally constructed to be completely surrounded by water, but as time went on, the land was added, and it now stands as a beautiful memorial for those who have passed away! It is one of the most impressive ancient temples you will ever see – so if you are lucky enough to visit Aegina, then this is a must-see destination.
What to Do at the Temple of Aphaia
The Temple of Aphaia is the perfect place to begin your exploration of the island. There are several other sites that are located across Aegina, which are great for exploring! You can also explore the island by boat. It's definitely important to see what else this area has to offer if you have time!
Another thing you can do at the temple is take a look at the photos and postcards for sale near the entrance. These can give you an idea about what activities, attractions, and other information to see while you're here in Aegina.
You can purchase your own postcards and photos – or just take a look at what's available. For an even closer look at the history of Aegina, you can also purchase books that are about this area.
Getting to the Temple of Aphaia
You can get to the Temple of Aphaia by taking a boat to Aegina from either Piraeus or Rafina. It's also possible to drive there if you have access to a car. If not, then public transportation is another great way to get here! You can catch buses and trains that will take you directly to Aegina – and once you're there, all you need to do is walk!
This temple is well known for its history, beauty, and religious significance so that it may be crowded with visitors during your visit. However, this just shows how many people value this site as one of Greece's most beautiful monuments.
If you are interested in seeing the Temple of Aphaia, then make sure to visit it during your time on Aegina. It is a great place for those who want to explore a bit of history and learn more about what life was like back in ancient times. The island itself is also a wonderful place that many people enjoy visiting because of its incredible scenery, natural beauty, and exquisite views.
There are restaurants, hotels, and other services located on this island and everywhere else across Greece. This can be another great reason why packing up and traveling to Greece might be exactly what you need!
PLEASE NOTE: The Greek travel section at GreekBoston.com are not paid reviews. Our unbiased and informative travel articles are designed review the popular cities, islands and places in Greece. We are not always able to exactly match the photos to the destinations, but we do try to get close. However, we are not looking for photo submissions at this time. If you find something in a Greek travel article that is not accurate based on your personal experience, please send us an email to greekboston@worldwidegreeks.com and we will consider your suggestions. Thanks for reading the travel section at GreekBoston.com!
Categorized in: About Aegina, Greece, Greek Travel Guide
This post was written by Greek Boston
Share this Greek Travel Article: