Tinos is a Beautiful Island of Religious Pilgrimage
Written by GreekBoston.com in About Tinos, Greece, Greek Travel Guide Comments Off on Tinos is a Beautiful Island of Religious Pilgrimage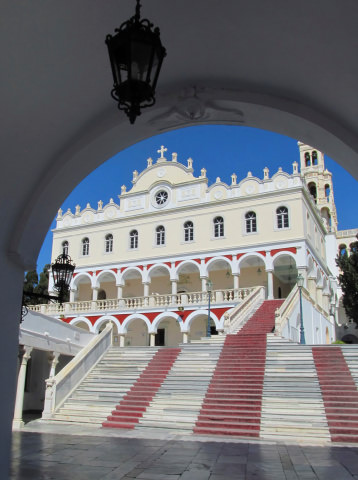 Tinos is the third largest of the Cyclades island group and is inhabited by nearly 10,000 people. Unlike some of the other islands, Tinos doesn't cater to the beach and bar crowd and is much less commercialized. Instead, this beautiful and fascinating island is a place of religious pilgrimage.
The Church of Panayia Evangelistria (Our Lady of Good Tidings) or Church of the Annunciate Virgin is Tinos' famous religious focus and the Greek Lourdes. Built in 1823, it is a holy place of pilgrimage and miraculous cures. The imposing and beautiful church stands atop Tinos Town's main hill, gleaming yellow and white. It is half Venetian and half Cypriot in style with a façade that is illuminated at night. It is lined with costly stones from Tinos, Paros, and Delos. By the door stands a golden orange tree that was donated by a blind man who was granted sight. Within the church complex are several museums that house religious artifacts, icons, and secular artworks.
Every year, thousands come to Panayia Evangelistria to pray before the icon of the Virgin Mary and there is often a line waiting before it. The icon is said to have healing powers, encouraging mass pilgrimage. It's common to see people crawling from the port on hands and knees pushing long candles before them up the steep street that leads to the red carpeted steps that are the final approach to the cathedral. Thousands more from all over Greece come here to baptize their babies. After baptism, it's common to see large Greek families celebrating with lots of food, wine, and dancing at area restaurants.
The Evangelistria is the street parallel to Panayia Evangelistria and is closed to traffic. It looks like a religious flea market. Shops line the street that sell vials of holy water, incense, candles, mass produced icons, tin votives, and other tacky souvenirs. There are also several jewelry and handicrafts shops.
Tinos Town is the island's capital and port. It is filled with restaurants, tavernas, and hotels but like all of Tinos, the focus is on the Greek Orthodox religion. Many residents still live the traditional life of farmers or craftspeople. Tinos Town is its busiest on weekends and during religious festivals when Greeks attend church and the restaurants and hotels cater to these visitors. Popular religious holidays that draw a huge crowd are August 15 (Feast of the Assumption of the Virgin), March 25 (Feast of the Annunciation) July 23 (anniversary of St. Pelagia's vision of the icon), and January 30 (anniversary of the finding of the icon).
If you visit, remember that Tinos is a place of pilgrimage. It is considered disrespectful to wear shorts, short skirts, and sleeveless tops near the churches. Never photograph someone on a religious pilgrimage.
PLEASE NOTE: The Greek travel section at GreekBoston.com are not paid reviews. Our unbiased and informative travel articles are designed review the popular cities, islands and places in Greece. We are not always able to exactly match the photos to the destinations, but we do try to get close. However, we are not looking for photo submissions at this time. If you find something in a Greek travel article that is not accurate based on your personal experience, please send us an email to greekboston@worldwidegreeks.com and we will consider your suggestions. Thanks for reading the travel section at GreekBoston.com!
Categorized in: About Tinos, Greece, Greek Travel Guide
This post was written by GreekBoston.com
Share this Greek Travel Article: