What to Do in Andros Island, Greece
Written by GreekBoston.com in About Andros, Greece, Greek Travel Guide Comments Off on What to Do in Andros Island, Greece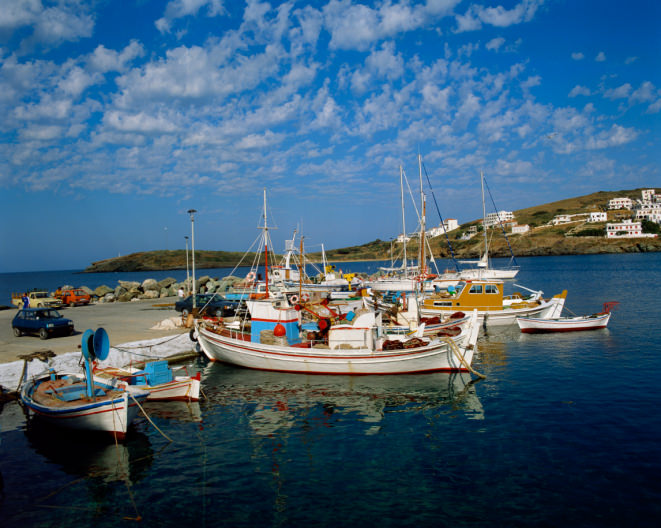 Andros is one of those Greek islands that merge tradition with modern life. Part of the Cyclades, the island is characterized by its typical Mediterranean climate, gorgeous beaches, and a diverse range of things to do. In fact, it's the second largest island in the Cyclades, which means that it offers the perfect escape. Here's a list of some of the things you can do while here:
Go Hiking
One of the things that sets this island apart is its beautiful scenery, most of which is best explored by foot. In fact, the island is called a "walker's paradise" by people who visit. The terrain is fairly mountainous, with footpaths stretching from one end of the island to the other. In the past, people and donkeys to help them get from one place to the next used these paths. Today, they offer guests an alternative way to explore the island's gorgeous terrain. If you don't want to venture into the mountains, there are plenty of walking opportunities near the coast! Check out the Village Path for some of the best walking.
Enjoy the Beach
Like any Greek island, there is no shortage of gorgeous beaches on Andros. In fact, if you spend most of your time on the island you'll be in good company – they are the main reason why tourists from all over the world flock here. Vitali Beach, for example, is perfect for those who want to relax and unwind in relative seclusion. Since it is off the beaten path, the views are outstanding. Another great choice is Achla Beach, which is also scenic and fairly remote. Not all the beaches here are remote, though. Agios Petros Beach has a great crowd but is also very scenic.
Learn About Art
There is a thriving culture of artists on Andros. While here, you can enjoy some of this history by visiting the Museum of Contemporary Art and the Museum of Sculpture. Both museums give a nice overview of art and how it relates to the island. Each year, artists from all over the world come here because the scenery and the Greek way of life inspire them. Each of these museums houses important pieces that offer people a chance to explore these various art forms.
Pursue Outdoor Sports
Do you like to stay active while outside? Besides hiking, there is a wealth of things to do here and for most of these activities; you can rent the equipment on the island. For those who love to explore sea life, snorkeling and scuba diving are great options. If you love to sail, kayak, and even canoe, you'll also find that Andros is perfect for that. If you don't want to do these sports but still want to be out exploring the terrain, you can always rent an all-terrain vehicle to help you explore some of the remote corners of the island.
While on the island, you'll notice that there is something here for everyone!
Categorized in: About Andros, Greece, Greek Travel Guide
This post was written by GreekBoston.com
Like this article? Please share below: