Top Greek Museums to Visit in Athens
Written by GreekBoston.com in About Athens, Greece, Greek Travel Guide Comments Off on Top Greek Museums to Visit in Athens
There is so much to see in Athens, including some of the top museums in the world. Be sure to plan ahead to make the most of your museum visits.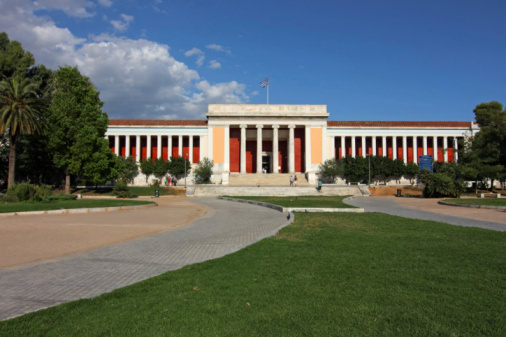 National Archaeological Museum
The National Archaeological Museum in Athens, opened in 1891 is often simply referred to as the National Museum. Considered the "best museum in Greece", it houses the world's best collection of ancient Greek art, displayed chronologically from 7000 BC to AD 500. Treasures include sculptures, pottery, jewelry, frescoes, and other artifacts found all over Greece including Mycenae, Epidavros, Santorini, and Olympia dating from the Neolithic era to classical periods. There is so much to see at the museum that people can visit twice.
Agora Museum
Within the Ancient Agora, an ancient marketplace that was at one time the focal point of administrative, commercial, political, and social activity in Athens, is the Agora Museum. The museum is housed in the Stoa of Attalos which was once a shopping mall. It was originally built by King Attalos II of Pergamon and later destroyed. It was reconstructed in the 1950s by the American School of Classical Studies and the reconstruction was funded by a donation from John D. Rockefeller, Jr. Entrance to the Agora Museum in the Stoa of Attalos is included with a ticket to visit the Ancient Agora. The exhibits display the complexities of ancient life.
Acropolis Museum
A trip to the Acropolis isn't complete without a stop at the Acropolis Museum, an international museum of the 21st century that holds the surviving treasures of the Acropolis. It has a total area of 25,000 square meters with exhibition space of over 14,000 square meters. In addition to viewing the galleries, there are plenty of other attractions for visitors to enjoy. The Museum occasionally holds music events and visitors can enjoy contemporary and orchestral concerts performed in the Museum's courtyard and the Museum hosts' small group performances in the balcony of the second floor overlooking the Archaic Gallery.
Benaki Museum
The Benaki Museum includes a private collection of over 20,000 objects that are laid out in chronological order in 36 rooms. It provides a panoramic view of Greek history from the Stone Age (7000 BC) to the 20th century. The collection contains a diverse array of Greek arts and crafts, paintings and jewelry, local costumes, and political memorabilia. It depicts the evolution of Greek painting, sculpture, and handicrafts.
Museum of Cycladic Art
The Museum of Cycladic Art features the remnants of a culture that flourished in the Cyclades from 3200-2000 BC. Most prominent are the semi-abstract Cycladic figurines. Most are female forms which possibly convey cult objects of a goddess religion. The beautiful marble carvings are unlike anything found in contemporary civilizations. The simplicity of these marble statues inspired many 20th century artists and sculptors including Picasso, Modigliani, and Henry Moore.
Categorized in: About Athens, Greece, Greek Travel Guide
This post was written by GreekBoston.com
Like this article? Please share below: