Top Hikes to Explore Greece on Foot
Written by Greek Boston in Greek Travel Guide Comments Off on Top Hikes to Explore Greece on Foot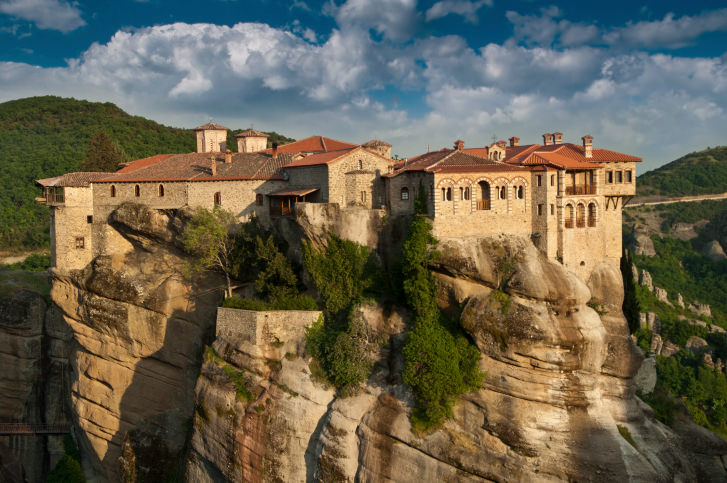 When most people are on vacation in Greece, they tend to think about typical things like shopping, sitting on the beach, and eating the local cuisine. While these are all great things to do while in Greece, they don't necessarily give you a chance to glimpse the "real" Greece. The country is very mountainous, and some of the places you can visit are rather isolated. Why not do as the locals do, and explore these out-of-reach places on foot? The following hikes are amongst Greece's most popular and should definitely be on your list:
As far as great hiking goes, the Samaria Gorge should definitely top your list. As Europe's longest gorge, this hike boasts stunning scenery and a truly memorable experience. This hike is so popular that you could easily join a tour, which will have you starting at the top in Omalos. However, you can certainly drive to Omalos or take a bus and complete the trek on your own. Be sure you come prepared with high quality shoes, a hiking stick (very helpful because the hike is mostly downhill), and plenty of water. However, there are water filling stations along the hike. Before you board the ferry after the hike is complete, be sure to spend some time in Agia Roumeli. Bring your bathing suit because the black sand beach is a memorable way to spend a few hours!
Another must-see in Greece is Meteora, which is listed as a UNESCO World Heritage site. The cliffs and stones in this region make it look relatively uninhabitable. However, it has been a spiritual home and retreat center for monks since the 11th Century AD. The monasteries themselves look as if they were magically built from the stone itself. Even though there are twenty-four monasteries on the rock formations, only six of them are still inhabited. Still, hiking around the area will give you a chance to witness these amazing sites first hand.
Located in the Peloponnese, Mani is one of the most rugged places in all of Greece. It's so rugged, in fact, that it's the only region of Greece that was never conquered by the Ottoman Empire. Not that they didn't try – the Ottomans launched several attacks, all of which were unsuccessful. When visiting, it's easy to see why invasion was nearly impossible – the terrain is filled with winding paths, hidden caves, and plenty of towers that can spot invaders from miles away. Hiking in the Mani will certainly bring you closer to this unique side of Greek history. Not only that, but despite this passionate history, the people of Mani are kind and welcoming to everyone who visits.
Made famous by the myths and legends surrounding the Oracle of Delphi, this region is also remarkably beautiful. Sure, you can take a bus or drive your car to visit the temple ruins at Delphi, but it's so much fun to explore the region by foot! Many of the trails that wind its way through this region have been their since ancient times, when cult worshippers would use them to travel from one temple to the other. Those who worshipped Pan to take them from Delphi to the Corycean Grotto, for example, primarily used the Ancient Footpath, or Archaio Monopati.
The next time you're in Greece, consider exploring the country by foot using one of the many walking paths that wind their way throughout Greece.
PLEASE NOTE: The Greek travel section at GreekBoston.com are not paid reviews. Our unbiased and informative travel articles are designed review the popular cities, islands and places in Greece. We are not always able to exactly match the photos to the destinations, but we do try to get close. However, we are not looking for photo submissions at this time. If you find something in a Greek travel article that is not accurate based on your personal experience, please send us an email to greekboston@worldwidegreeks.com and we will consider your suggestions. Thanks for reading the travel section at GreekBoston.com!
Categorized in: Greek Travel Guide
This post was written by Greek Boston
Share this Greek Travel Article: