Hiking Opportunities Abound in Mani
Written by GreekBoston.com in About Mani, Greece, Greek Travel Guide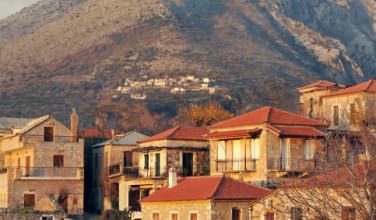 Mani was once considered a remote location, but it is now a popular destination for tourists, especially those that enjoy hiking, as it is known for its footpaths and landscape. Mani is the region that covers the central peninsula in the south of the Pelopponnese and is made up of rocky highlands, green oases, small fishing tavernas, and stone tower houses.
The people of Mani, the Maniots (also referred to as Maniates, or Μανιάτες in Greek) for centuries were a tough people that regarded themselves as direct descendants of the Spartans. They were a law unto themselves and known for their fierce independence and resentments of attempts to be governed. Many internal feuds and battles were the result, which has contributed to a unique Mariot culture. However, today those feuds are long forgotten and the people in Mani are as friendly and hospitable as anyone else in Greece.
The scenery is what draws tourists to this region, which features the Taygetos Mountains, many stone towers, churches, and caves. The architecture of the area is a reflection of the past and even new buildings must adhere to stone exteriors.
The Mani is divided into two areas, the Messinian Mani (or outer Mani) and the Lakonian Mani (or inner Mani).
The Messinian Mani
The Messinian Mani is to the north of Lakonian Mani, between the Taygetos Mountains and the west coast of the Mani peninsula. The coast is made up of small coves and beaches, which feature a backdrop of gorgeous mountains that remain snowcapped until late May. The Messinian Mani is worth visiting for the views and the hiking opportunities. Hiking in the city of Kardamyli is the biggest attraction that Messinian Mani has to offer. The hills are made up of color-coded walking trails that are better suited for the experienced hiker since most of the hikes are strenuous in nature. Strong hiking footwear and plenty of water to drink is essential.
The Lakonian Mani
The Lakonian Mani, or inner Mani, features many walking routes and sights that convey the feel of the Mani. The churches are examples of Maniot architecture and include the 18th century Church of Taxiarhes and the even older Church of Agios Ioannis. The Mani is comprised of many tower houses; the most noteworthy are the Mavromihalis Tower and the Pikoulakis Tower House Museum which is located in a restored tower house. At the Pikoulakis Tower House Museum a visitor can view Byzantine pieces from Mani churches, ancient manuscripts, and jewelry. The most dramatic of the traditional Mani villages, Vathia, is also located in Lakonian Mani. It comprises a cluster of closely packed tower houses perched on a rocky spur.
Categorized in: About Mani, Greece, Greek Travel Guide
This post was written by GreekBoston.com
Like this article? Please share below: