Tour the Virgin of Panteli Castle in Leros
Written by Greek Boston in About Leros, Greece, Greek Travel Guide Comments Off on Tour the Virgin of Panteli Castle in Leros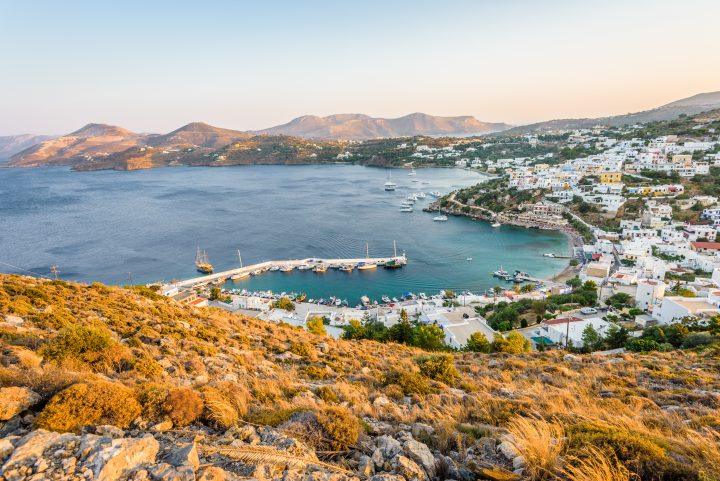 Castles are traditionally built to defend from attack or to control territory. This castle is in the middle of Leros, one of the Dodecanese Islands. Originally, Panteli Castle was built on an elevation as a fortress. It served as protection for the port below, and it was also used as a residence for the locals if they needed refuge from invaders.
Are you thinking of visiting this castle? Here's some information about Panteli Castle, as well as what you need to do to visit
About the Virgin of Panteli Castle
The present-day appearance is due to renovations done in 1873 after being destroyed by an earthquake around 1850 AD. From an engineering standpoint, the building is fascinating. First, it is built to withstand earthquakes.
The castle was built with a basement and one floor above ground level. A second floor was added in the 19th century, and a third above that to create the tower you see now. The foundations below were built on thick walls to resist tremors. There are also many windows aid in ventilation; they are small and serve as narrow escape routes from invaders rather than clear views of the world outside.
The image of the Virgin Mary is painted on the outside wall of the tower closest to the beach. According to lore, there was a chapel dedicated to her inside the castle, although it is not documented when it was destroyed.
What to Do at the Virgin of Panteli Castle
If you visit Leros, you should climb the tower at Panteli Castle for a stunning view of the island and see how sturdy the walls are. It is one of only two towers still standing on Leros that have never been destroyed by earthquakes or war.
The other tower, Castle Gate, is located about 4km to the north of Panteli Castle.
Over time, the information about the Virgin of Panteli Castle has changed and evolved.
The Virgin of Panteli Castle is an incredible place and a great reason to visit the island of Leros. The tower is open from 10 am to 6 pm daily, and it is a popular spot for tourists on their way to the beaches.
Getting to the Virgin of Panteli Castle
If you stay in the center of Leros Town, you can walk to the castle. It is about a 20-minute walk from town, so it is excellent exercise. Many taxis are available for hire that will take you there for about 10 euros. So if visiting in the summer season or with children, I would recommend paying for a taxi. To get to Panteli Castle, take a water taxi in the afternoon and ask to be dropped off at the beach; it is about a 10-minute walk.
The Virgin of Panteli Castle is a great place to visit with kids, and even better if they are old enough to appreciate how hard life must have been for villagers during medieval times. Compared to other castles, this one towers over the surrounding area, and it is easy to get a good view of Leros from here.
The Virgin of Panteli Castle is a unique place to visit if you have a chance on the island of Leros. Also, if you are interested in visiting Leros, I would suggest staying here. The castle is an excellent part of the island's history, and it is interesting to see the reconstruction done after an earthquake destroyed it.
The Virgin of Panteli Castle provides a unique experience that you will not find anywhere else while visiting the Dodecanese Islands.
PLEASE NOTE: The Greek travel section at GreekBoston.com are not paid reviews. Our unbiased and informative travel articles are designed review the popular cities, islands and places in Greece. We are not always able to exactly match the photos to the destinations, but we do try to get close. However, we are not looking for photo submissions at this time. If you find something in a Greek travel article that is not accurate based on your personal experience, please send us an email to greekboston@worldwidegreeks.com and we will consider your suggestions. Thanks for reading the travel section at GreekBoston.com!
Categorized in: About Leros, Greece, Greek Travel Guide
This post was written by Greek Boston
Share this Greek Travel Article: