Why You Should Visit the Island of Ithaca
Written by Greek Boston in About Ithaca, Greece, Greek Travel Guide Comments Off on Why You Should Visit the Island of Ithaca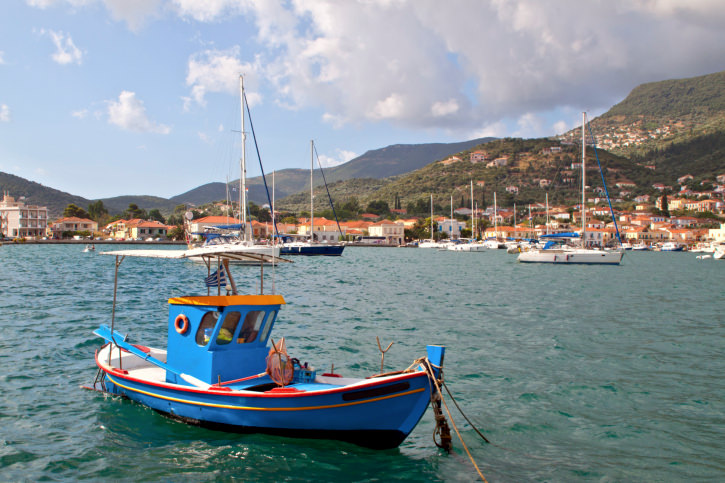 Even though Ithaca is the smallest of all the Ionian Islands, it has a big personality. With fewer than one thousand permanent residents on the island, this is an ideal destination for those who want all the fun of a Greek island without the crowds. Not only that, but it also has an impressive history.
Still not convinced that you should spend some time here? Here are some very good reasons why you should visit this idyllic Greek island:
Has a Rich History
The way Homer described his beloved Ithaca, it sounds larger than life. As a result of this, there has been much debate as to the actual location of the "mythical" Ithaca. While each theory seems to have a different result, the most widely accepted is that the legendary Ithaca is none other than the modern island. Even if this really isn't the location of Homer's Ithaca, you still can't help but feel the presence of the past. Over time, the island has changed hands several times – first under occupation by the Romans, followed by the Normans, Turks, Venetians, and the Ottoman Empire. Today, it's part of the modern day country of Greece.
Off the Beaten Path
If you would like to spend time on a Greek island but don't want to get caught up in all the tourist crowds, this is a great island to do so. The magic of the place lies in its serenity. Life is at a slower pace here, and many of the places seem as if they are frozen in time. For travelers, this creates one of those experiences that you can't get anywhere. Despite the fact that most places have access to modern conveniences, the fact that the island moves at a different place makes it so much easier for you to relax away your cares. Isn't this what vacations are all about?
Stunning Natural Beauty
The thing that really draws people to Ithaca is that it has an amazing natural beauty. Sure, there are plenty of places in Greece that are absolutely gorgeous, but Ithaca wins in terms of simplicity. Since the island is a manageable size, the beauty of the island is a bit more understated, which makes it an appealing choice for couples and families alike. While here, be sure to enjoy the crystal blue waters, amazing beaches, and the ancient footpaths that weave their way throughout the island. Enjoy the scenery as much as you can!
What to Do While Here
While spending time on this island, you should use its serenity to your advantage. Since Ithaca has some of the best beaches in all of the Ionian Islands, it's a great island for those who love to relax and unwind by the water. It's also possible to explore the island by foot. Ancient footpaths that connect the villages together are just as historical as they are enchanting. The island does have a cuisine all its own, too, so be sure to eat plenty of food from the local cuisine!
No matter what you decide to do while on Ithaca, one thing is for sure – the island is just as enchanting now as it was thousands of years ago
PLEASE NOTE: The Greek travel section at GreekBoston.com are not paid reviews. Our unbiased and informative travel articles are designed review the popular cities, islands and places in Greece. We are not always able to exactly match the photos to the destinations, but we do try to get close. However, we are not looking for photo submissions at this time. If you find something in a Greek travel article that is not accurate based on your personal experience, please send us an email to greekboston@worldwidegreeks.com and we will consider your suggestions. Thanks for reading the travel section at GreekBoston.com!
Categorized in: About Ithaca, Greece, Greek Travel Guide
This post was written by Greek Boston
Share this Greek Travel Article: