Zakynthos – Turquoise Waters and Plenty of Beaches
Written by GreekBoston.com in About Zakynthos, Greece, Greek Travel Guide Comments Off on Zakynthos – Turquoise Waters and Plenty of Beaches
Zakynthos is the third largest of the Ionian Islands in Greece. The island is also known by its Italian name, Zante. The western and central regions of the islands feature forested mountains that drop off to beaches with turquoise waters while the northern and southern regions are more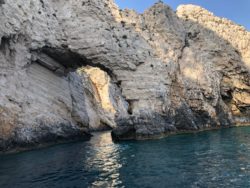 remote. The 1953 earthquake devastated the island. During reconstruction, the island's roads were expanded and paved, squares and neoclassical buildings were built, and the airport opened in the 1960's which all contributed to increased tourism in later years.
Zakynthos Town, the capital and port of the island, wraps around an enormous blue bay on the east coast. If you are looking for a good place to people watch, head to Plateia Agiou Markou, the central square that has plenty of cafes, bars, restaurants, hotels, and museums. The Byzantine Museum overlooks the main plaza and features two levels of ecclesiastical art that was rescued from churches that were ruined by the earthquake. The Museum of Solomos features a collection of memorabilia of
Dionysios Solomos, who was born on Zakynthos and is considered to be the father of modern Greek poetry. The Romas Mansion, built in the 17th century, features period furnishings and a library of 10,000 volumes. The Church of Dionysios, the church for the patron saint of the island, contains icons from the Monastery of Strofades and speech scrolls from the 13th and 14th centuries. A Kastro sits high above town on a hill.
The beaches on Zakynthos are plentiful. The most famous is the beach at Navagio Bay, in the northwest near the village of Anafonitria. Isolated by high cliffs, it is accessible only by boat. Photos of this beach can be found on every tourist brochure about Zakynthos, which is why it becomes very crowded in high season. Also to the north are the Blue Caves, sea-level caverns where the water turns a translucent blue while the sun is shining. Other popular beaches on the island include Gerakas, Banana Beach, and Kaminia.
Zakynthos is also known for its population of loggerhead turtles, one of Europe's most endangered marine species. The turtles come ashore to lay their eggs on the beaches of the Bay of Laganas, which is also where tourists like to spend time which is cause for many problems. Hatching time is July through October. Many nests end up destroyed and the young turtles don't make it to the water. This has caused tension between conservation authorities, tourism officials, and the government. In 1999 the Bay of Laganas area was declared the National Marine Park of Zakynthos by the Greek government and strict regulations were put into effect. Designated nesting beaches are now off limits between dusk and dawn during breeding season, May to October. Although, these rules are sometimes ignored.
Zakynthos is accessible by domestic and international airlines and ferries. The larger resort areas have plenty of car and motorcycle rental establishments.
Categorized in: About Zakynthos, Greece, Greek Travel Guide
This post was written by GreekBoston.com
Like this article? Please share below: