Host a My Big Fat Greek Wedding Screening Party
Written by Greek Boston in Greek Wedding Traditions Comments Off on Host a My Big Fat Greek Wedding Screening Party
Anyone who is Greek and has gotten married in the Greek Orthodox Church usually appreciates the movie My Big Fat Greek Wedding when they see it because they can relate to certain aspects of the film. Are you getting married soon? If so, the movie is worth another screening. In fact, why not plan a screening party as part of your wedding?
Weddings can be stressful for not only you, but for your closest friends and family. Hosting events like a movie screening can not only break the ice and allow people to get to know each other, but they are also fun. Since this movie is a lot of fun, it will put everyone who attends in a good mood.
Great Party Theme
You can either throw this party as an additional event or you can use this theme for any of your existing wedding plans. For example, you can have a screening party as part of the Bachelorette party. You can also hold the bridal shower with a My Big Fat Greek Wedding theme. In both of these examples you can either watch the movie exclusively or keep it running in the background.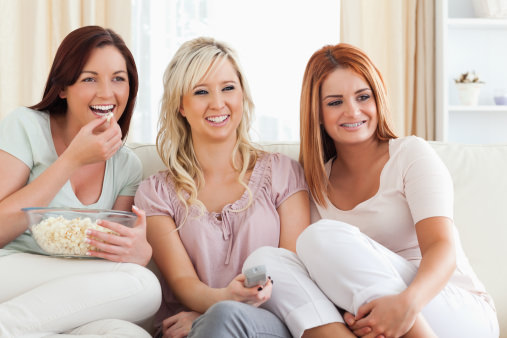 Screening the Movie
Sure, you can simply invite a few people over, put in the DVD, and watch the movie on your regular television. However, it can be fun to set up a projection screen and watch the movie outside or in a larger room in your home. You can even find or rent seats that resemble movie chairs to have the full affect.
Assemble the Guest List
How you decide to show the movie will depend a lot on how many people are actually going to be there. So, before you make arrangements for how you will screen it, you should assemble the guest list and send out your invitations. Wait to hear back from people to see how many will be there. That way, you will know if your regular television is adequate. Once your guests have been confirmed you can also plan the food and drink spread.
What to Serve
Since you're having a movie party, of course you can serve popcorn. It would also be fun to serve a variety of traditional Greek mezedes such as dolmades, tiropita, and spanakopita. If you want to serve wine, see if you can find My Big Fat Greek Wine which specializes in wines from Greece. Plus, the name of the vineyard is reminiscent of the movie itself!
Decorating for the Party
One thing that can make an event like this fun is to take the time to decorate. One idea is to get inspiration from your favorite scenes in the movie. You an also purchase Greek-themed party decorations and use those to decorate. You can be as creative as you want.
Watching My Big Fat Greek Wedding while planning a wedding is a fun idea. You can share this movie by holding a screening party or using it as a theme for an existing party such as the bachelorette party or the bridal shower. Either way, this movie is a classic and one that everyone will enjoy.
Categorized in: Greek Wedding Traditions
This post was written by Greek Boston