Selecting Your Bridesmaid Dresses
Written by Greek Boston in Greek Wedding Traditions Comments Off on Selecting Your Bridesmaid Dresses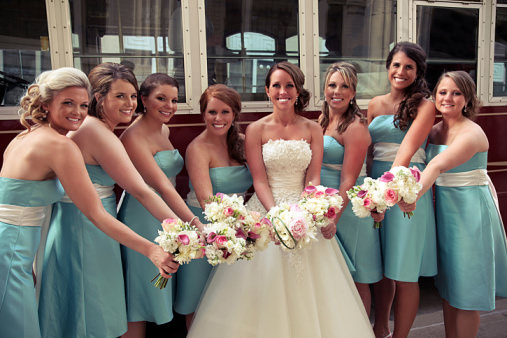 Once you have your bridal party selected for your Greek Orthodox wedding, you will need to decide what they will be wearing during the ceremony and reception. Typically, it is the bride's choice for what the bridesmaid dresses will be.
However, some brides do give their bridesmaids some control when selecting the outfit either by asking for suggestions or letting them select their own dresses. Here are some options on what you can do.
Your Wedding Colors
As you are planning your wedding, you will likely have chosen some colors for your wedding colors. Standard practice for the bridesmaids' gowns is to choose one of the wedding colors or at least to select a color that matches the wedding colors. So, if your wedding colors are pale pink and white, it makes sense for the gowns to have one or both of these colors in it.
Koumbara Can Stand Apart
Do you have a fairly large bridal party? One idea is to select a slightly different gown for the koumbara than for the other bridesmaids. Some brides opt to select a color and a material and let the koumbara choose the dress herself. It is also acceptable for you to select the dress.
However, you may want to ask your koumbara for feedback about what she likes. The main idea is to find a way for the koumbara to be set apart from the rest of the bridesmaids.
Let the Bridesmaids Choose
One of the biggest sources of anxiety amongst the bridal party is the dress. The standard expectation is that the dress will look hideous and be uncomfortable. If you truly have their best interests at heart, one thing you can do to promote good will between you and your bridesmaids is to let them choose their own dress.
The best way to approach this is to choose a manufacturer, color, and material and let them select their own style. This is an especially good option if your bridal party is fairly large and encompasses a large variety of body styles.
Don't Forget the Accessories
No matter which dress you choose, remember that the accessories are every bit as important as the rest of the outfit. Work with your bridal party to select the best accessories for the dress and for the occasion. Some brides purchase the accessories, such as the purse, shoes, or jewelry as part of the bridal party's gift package. In general, the accessories should be tasteful and match the dress.
Dealing With Conflict
What if there are members of your bridal party who simply aren't happy with the dresses you've selected? Well, aside from letting them select their own dress, it is nearly impossible to please everyone. Also, letting them select their own dress still isn't a guarantee that they'll be happy. Do your best to deal with conflict as it arises and work with a dress shop or seamstress who will also help in dealing with the difficult ones.
Your bridal party will be standing with you during the Greek Orthodox Marriage Ceremony. So, they will naturally want to look their best. Select a dress that will not only look great on the majority of your bridal party but also will look fantastic in the photographs.
Categorized in: Greek Wedding Traditions
This post was written by Greek Boston