Buying and Using Greek Christening Candles
Written by Greek Boston in Greek Christening Traditions Comments Off on Buying and Using Greek Christening Candles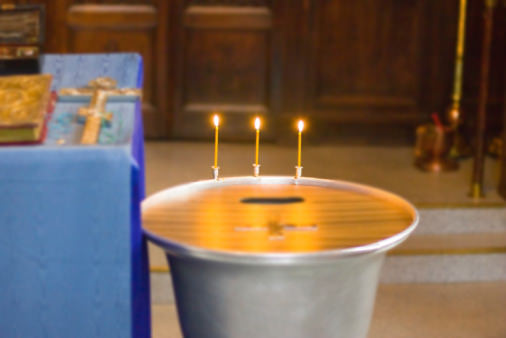 Baptismal candles are an essential part of a Greek Orthodox Christening. Three candles, one larger candle and two smaller ones, are used during the ceremony. As a result, care should be taken that the right candles are purchased. Note that the godparents are traditionally responsible for buying the candles.
Role in the Ceremony
There are a few moments in the ceremony where the candles are important. First, after the infant is baptized, he is dressed in his new, white garments. At this point, the children who will be holding the candles are called up and the candles are lit.
The second part of the ceremony where the candles are used takes place after Chrismation during the joyful procession around the font. Here, the priest, the Godparent (responsible for holding both the infant and the larger candle), and two children holding the smaller candles will process around the font.
Types of Candles Used
There are two types of candles that are used and you will often see both – beeswax or paraffin candles. This is largely personal preference but it seems that the paraffin candles are more popular. There are typically three candles – one larger candle and two smaller ones and are typically purchased by the Godparents.
Decorations for the Candles
It is very rare to attend a Christening where the candles aren't decorated with white tulle, ribbon, or streamers. All three of the candles are decorated but the larger candle is usually the most elaborate. You can buy the candles online or in a local shop or you can decorate them yourself.
Buying the Candles
There are three basic places where you can buy the candles. You can order them from catalogs, buy them in a local shop, or purchase them online. If you want to buy them, it may be helpful to ask around and see where other people bought them. Word of mouth is often the best way to make a purchase like this. Keep in mind that buying the candles is the responsibility of the Godparents.
Making the Decorations
Another option is that you can decorate the candles yourself. Look at pictures of Greek Christening candles to get ideas. You'll want your homemade decorations to look as traditional as possible. Though the materials used don't differ that much there is a lot you can do to make your candles both traditional and unique. You may also be able to find instructions online. This is a good option that may help you save money. However, it takes a certain flair to get the decorations to look perfectly.
Do you need to buy the Christening candles? Keep in mind that there is an art to buying these candles. They not only need to be substantial enough to be lit during the ceremony but they also should be well decorated. Also, the larger candle will be lit a few more times when the child takes communion. You can either purchase these candles already decorated or decorate them yourself.
Categorized in: Greek Christening Traditions
This post was written by Greek Boston