Greek Christening Favor Ideas
Written by Greek Boston in Greek Christening Traditions Comments Off on Greek Christening Favor Ideas
Are you baptizing your baby in the Greek Orthodox Church? Well, there's certainly a lot to think about. Your priest will guide you through the religious aspects of the ceremony, including choosing the Godparents. However, it is up to your discretion what to do about the reception.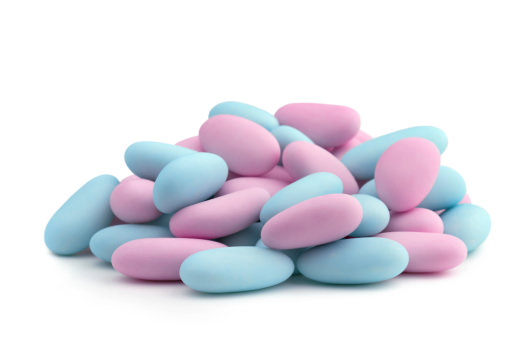 If you do decide to have a reception, you will definitely want to provide your guests with some favors to remember the occasion by. Traditionally, it is just the women who will receive the favors. However, more and more people are abandoning that convention and giving them to the men, as well.
Koufetta – Candied Jordan Almonds
This is a favor that is traditionally present at every Greek Christening and wedding. It is a symbol of luck and is considered a cultural taboo if they are omitted. Most people hand out mesh bags with the candied, white-colored almonds inside. If you wish, this is the only favor you need to give. If you place the almonds in the bags yourself, remember they need to be an odd number.
Religious Symbols
Other nice favors for a Greek Christening are small religious symbols, like an icon or a cross. The cross can be tied to each Koufetta bag. If you choose an icon, discuss with your priest which ones are most appropriate for the occasion. You can even print out little cards with a religious icon on it and some information about the baptism and include it with the favor.
Greek-Themed Favors
Another common idea for a favor is to give something that has a Greek theme such as a small container of olive oil, a small pot of Greek honey, or a small cup for Greek coffee. Most people appreciate gifts that have to do with food and that celebrate the culture, though the traditional offering as a favor is a cross.
Favors for Men
If you do decide to give favors to the men as well, remember that they won't appreciate things that a woman might. You can either choose a favor that both men and women will enjoy (such as candy or religious symbols) or you can give the men something that is obviously masculine. A small bottle of liquor such as Ouzo or Metaxas is a good choice.
Commemorative Favors
Another popular choice for a Christening favor is to give something that commemorates the event. A small item such as an ornament or a decorative box that has the name of the baby and the date of the Christening on it is a good choice. This is a good way to remind people of the event.
No matter which favor you choose, remember that it is very important that you also give your guests some Koufeta. Even though it isn't exactly necessary to place it in those mesh bags (you can simply have a dish of it out) it is the easiest way to give it away. You can either hire someone to make the bags or you can do them yourself. You can also choose things like crosses, ornaments with the date of the Christening on it, and other fun favors to go with the candied almonds.
Categorized in: Greek Christening Traditions
This post was written by Greek Boston