Choosing an Icon for a Greek Christening Gift
Written by Greek Boston in Greek Christening Traditions Comments Off on Choosing an Icon for a Greek Christening Gift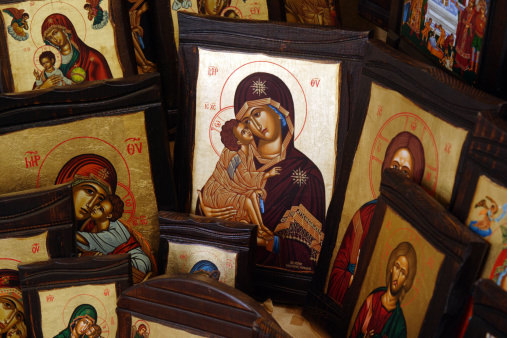 When an Orthodox Christian is baptized, his life as a Christian officially begins. To celebrate, friends and family alike gather at the church to watch the ceremony and then attend the reception. Have you been invited to a Greek Orthodox Christening? If so, you will need to bring a gift.
There are several types of gifts that you can give. These include money, baby themed items, and religious inspired gifts. Though there are many kinds of religious gifts you can give, one of the best choices is to give an icon. However, how do you choose the best one?
Have the Icon Blessed
Once you do select an icon to give as a Christening gift, you may want to give it to your Orthodox priest or bishop to have it blessed. However, this practice isn't necessary and most leave it up to the recipient to decide if the icon should be blessed. However, whether or not an icon should be blessed in the first place is the subject of some controversy. If you're unsure, please consult with your priest for guidance.
Patron Saint
In the Orthodox Church, most people are named after a saint. If you are unsure of which saint the child is named after, it is best to ask the parents. In some cases, the baptismal name may differ from the name that is on the birth certificate so it is best to make sure. Once you find out the name, you can find the icon of that saint and give it as a Christening gift.
Theotokos – Mother of God
Another icon option for a Christening gift is to find one of the Theotokos, or the Mother of God. Though it is possible to find an icon of Mary by herself, a much better gift for a baptism is to give one that depicts Mary with her infant child. As Christians, we are followers of Christ and giving an icon with the baby Jesus in it is a reminder of that.
Notable Scenes from the Bible
Other common icons that can be given as gifts are those that depict scenes from the Bible. Any scene would be appropriate. One of the best choices is an icon that depicts the baptism of Christ. However, choosing a scene from the Bible is highly personal. If you know the family well, you could also select an icon that has a special meaning to the family.
Something Special
In some cases, certain saints have come to represent certain things. For example, if the person who is getting baptized is battling a certain illness, Saint Panteleimon is looked at as an appropriate intercessor. Note, however, that it isn't the saint that delivers us from these problems, but rather God if it is His will.
If you are attending a Greek Orthodox Christening, a great gift idea is to give an icon. Since the Christening serves as the official beginning of the life of a Christian, giving an icon to display in the home is an appropriate gesture.
Categorized in: Greek Christening Traditions
This post was written by Greek Boston