Top 5 Lovely Greek Lent Recipes
Written by Greek Boston in Greek Cooking Comments Off on Top 5 Lovely Greek Lent Recipes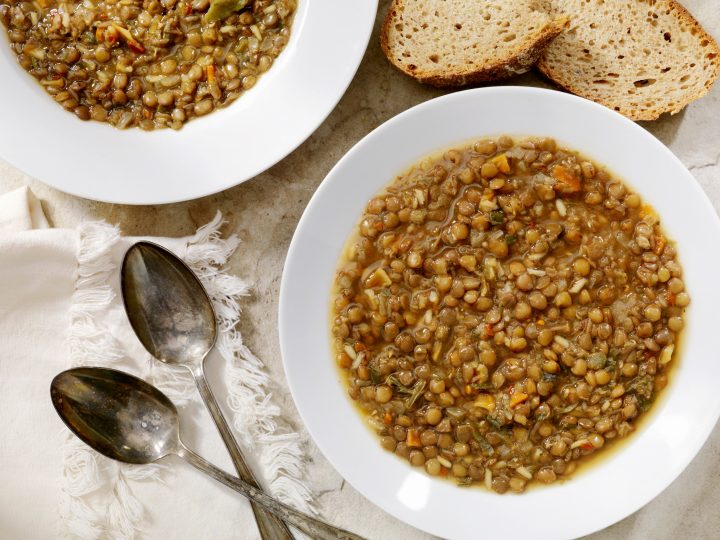 Now that Lent is underway, for those of us who have decided to adhere to the fast, it is time to alter our diets a bit. There are some great vegetable dishes in Greek cooking, that are hearty, delicious, and filling, that won't cause you to break your fast. These vegetarian recipes represent some of the best that Greek cuisine has to offer. Here are some lovely Greek vegetable recipes recipes that you can make for Great and Holy Lent:
Greek Lentil Soup is a staple in the Greek diet. It is eaten throughout the year and on every holiday. It is a soup traditionally made with onions, lentils, carrots, celery, and is sometimes made with a tomato-based broth (but not always, you can just add water and it will have plenty of flavor).
The soup is made from more exotic legumes like chickpeas, fava beans, and broad beans. In the winter, when fresh produce is not available, lentils can be made with dried legumes and left to soak for a few days. Sometimes, people often splash a little red wine vinegar on it before serving.
Greek Green Bean is a simple dish of whole green beans, olive oil, salt, and lemon juice. It is a staple dish on the island of Crete, especially, but it can be found all over Greece. This dish is usually cooked outdoors on an open fire or gas stove. One can also cook it in a frying pan with the lid closed for about five minutes until the green beans are slightly tender and crisp. The beans are usually served mixed with olive oil and sprinkled with salt, lemon juice, chopped parsley, or grated tomato.
Greek Spinach and Rice is the most common dish served during Lent. It is made with fresh spinach leaves, olive oil, herbs (if desired, some people like it with dill, but it is an acquired taste), rice, salt, and pepper. It can be served as an appetizer or a side dish. This is a simple and nutritious dish that can either serve as a light supper, or a nice side dish.
Fava (Greek Split Pea Soup)  is another dish that is commonly eaten during Lent. It is made from fava beans, with the shells removed. The fava beans are boiled for about three hours until tender and almost blended in a creamy soup. The soup is then strained and seasoned with olive oil, lemon juice, chopped parsley, salt, and pepper to taste. This makes a great, light supper, especially when served with bread.
Greek Vegetables, or Briami, are made with fresh vegetables, zucchini, eggplant, tomatoes, carrots, celery, gigantes (large, white beans) etc. You can use what you have! The vegetables are sliced into bite-sized pieces and layered in a baking dish. This dish can make a delicious, light supper by itself, or can be served as part of a larger meal.
These dishes are a great choice for Lent or any time of the year!
Categorized in: Greek Cooking
This post was written by Greek Boston
Share this Greek Cooking Article: