Explore the Sunken City of Olous in Elounda
Written by Greek Boston in About Crete Greece, About Elounda, Greece, Greek Travel Guide Comments Off on Explore the Sunken City of Olous in Elounda
The modest fishing town of Elounda can be found on the northern coast of the island of Crete, and it is an excellent choice to visit as a vacation spot.
The whole point of a vacation is to relax, right? Don't worry; we'll get to the beaches in a moment, but I would be doing you a disservice if I didn't tell you about this place first. No matter how busy your schedule might be when you're in the area, you need to set aside some time to go to Six Senses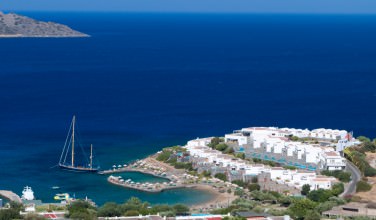 Spa at Porto Elounda Crete. The actual spa looks as amazing as you'll feel after you walk out of here. Enjoy a heavenly massage with a massage oil of your choosing, and go for a swim in their infinity pool that looks out over the water. It's an experience that you will never forget.
As promised, the beaches. You have two main beaches to choose from, that being Elounda Beach and Kolokithia Beach. Elounda Beach is a nice beach that doesn't often draw large crowds. It's not that far of a taxi ride from the hotels, and it's within walking distance of the restaurants and shopping areas. The crystal-clear blue water is what you would come to expect from a gorgeous beach on the island of Crete. Kolokithia Beach does tend to get crowded, but you'll see why so many people love to gather there once you lay eyes on it. Crowds can really ruin the experience on Kolokithia Beach, because it's fairly small compared to other beaches on the island.
If you're looking to go sightseeing, check out the Happy Train. I know it may seem like it's for children, but this is a great excursion for travelers of all ages. This tour has plenty of great information, and provides a really fun atmosphere while you check out what Elounda has to offer.
While the Happy Train is a great excursion, there's one thing it can't do, and that's go in the water. That's where Elounda Boat – Cruises To Spinalonga comes in, as you'll take a boat trip to the island of Spinalonga and take a tour of the island. You will learn all about the fascinating history of this island, both ancient and modern. Dress accordingly, as the island is very rocky.
If just sailing on the water isn't enough for you, and you want to check out what's down there, you'll have to look up Diving Centre Blue Dolphin. Whether you're looking to do shore dives, boat dives, day dives or boat dives, Diving Centre Blue Dolphin does it all, and they do it better than anyone else in Elounda. The company keeps all of their equipment up to date to ensure both the safety and the quality of their dives, and they are extremely professional and knowledgable about their craft.
One last thing to explore when you're in Elounda is the sunken city of Olous. People are often disappointed when they travel here on foot to see the sunken city, but you really have to plan for a day when you can go snorkeling, weather permitting. If the weather is favorable for snorkeling, you will be able to see some ancient ruins from the city of Olous beneath the waters of Elounda Bay. Bring your waterproof cameras!
PLEASE NOTE: The Greek travel section at GreekBoston.com are not paid reviews. Our unbiased and informative travel articles are designed review the popular cities, islands and places in Greece. We are not always able to exactly match the photos to the destinations, but we do try to get close. However, we are not looking for photo submissions at this time. If you find something in a Greek travel article that is not accurate based on your personal experience, please send us an email to greekboston@worldwidegreeks.com and we will consider your suggestions. Thanks for reading the travel section at GreekBoston.com!
Categorized in: About Crete Greece, About Elounda, Greece, Greek Travel Guide
This post was written by Greek Boston
Share this Greek Travel Article: