Recipe for Greek Style Grilled Bell Peppers
Written by Greek Boston in Authentic Greek Food Recipes, Greek Orthodox Fasting Lenten Recipes, Greek Vegan Food Recipes, Recipes for Greek Appetizers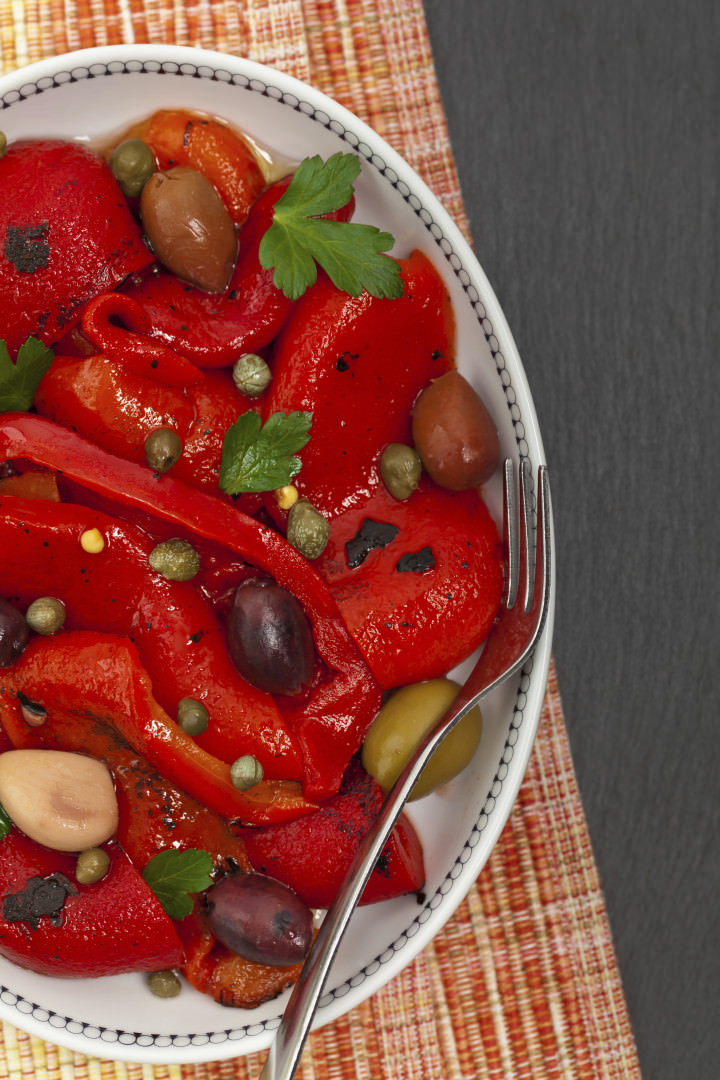 Sweet pimiento peppers from Florina, which is part of Macedonia Greece, are so famous they're called Florina peppers. Roasting and grilling bell peppers adds a whole new level of flavor to your appetizer course.
Ingredients:
2 lbs. green and red bell peppers
1/3 cup olive oil
5 tablespoons, red wine type vinegar
1 clove, minced garlic
1/2 teaspoon dry mustard
1/2 teaspoon chili pepper
Salt
Instructions to Make Grilled Peppers:
Preheat the broiler and place the peppers on the rack about 5 inches away from the source of heat. Broil peppers until the skins blister, turning them carefully so they cook on all sides. When the skins are blackened and cracked (about 2 to 3 minutes on each side), transfer to a big bowl and cover with plastic wrap. Let them sit for about 10 minutes. The skins will detach completely, and the peppers will be very easy to peel.
Peel the peppers, discard the stems and seeds, and cut the flesh lengthwise into 2 or 3 sections. Collect the juices.
Mix the oil and vinegar in a small glass jar. Add the pepper juices, garlic, mustard, chili pepper, and salt and mix well.
While the peppers are still warm, arrange them in a deep dish and pour the dressing over them. Partially cover the dish and let it cool, then cover and refrigerate until 1 or 2 hours before you are ready to serve. Serve at room temperature.
You can also try blending the grilled bell peppers and combining them with olive oil and roasted garlic to make a delicious spread, similar to bruschetta. Throw a little crumbled feta or Greek olives on the top so people know it's Greek!
** This recipe contains olive oil, so it isn't suited for those who adhere to a strict fast.
PLEASE NOTE: Greek recipes can be slightly different based on a variety of reasons, such as the region of Greece that the recipe is being made in. If you have seen this Greek recipe made another way, please send us an email to greekboston@worldwidegreeks.com and we will evaluate your suggestion. Thanks!
Categorized in: Authentic Greek Food Recipes, Greek Orthodox Fasting Lenten Recipes, Greek Vegan Food Recipes, Recipes for Greek Appetizers
This post was written by Greek Boston