Recipe for Greek Style Boiled Shrimp
Written by Greek Boston in Authentic Greek Food Recipes, Recipes for Greek Appetizers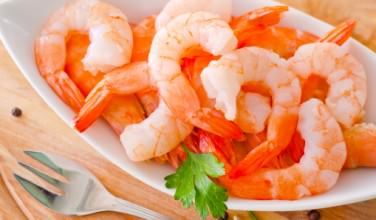 Shrimp is a popular ingredient in any coastal town in Greece. The latholemono sauce (whipped oil and lemon juice) you serve over these boiled shrimp is a classic Greek seafood topping and great addition to your culinary repertoires. This is a simple, healthy, and fresh seafood appetizer that your family is going to love!
Greek Style Boiled Shrimp (Garides Vrastes) Recipe Ingredients:
2 lbs. raw large shrimp
Salt
Pepper
4 tablespoons white wine
1 sliced carrots
1 sliced onion
Bay leaf
Olive oil
Mayonnaise
Lemon juice
Directions to Make Boiled Shrimp:
Wash, remove the shell and devein shrimp. In a saucepan, combine water, wine, carrot, onion, salt, pepper and bay leaf. Boil the shrimp for 15 minutes. Allow to boiled shrimp cool in the liquid.  Drain the shrimp and serve coated with mayonnaise or with olive oil and lemon juice. You can serve this either cold or warm.
PLEASE NOTE: Greek recipes can be slightly different based on a variety of reasons, such as the region of Greece that the recipe is being made in. If you have seen this Greek recipe made another way, please send us an email to greekboston@worldwidegreeks.com and we will evaluate your suggestion. Thanks!
Categorized in: Authentic Greek Food Recipes, Recipes for Greek Appetizers
This post was written by Greek Boston