Recipe for Baked Greek Style Quinces
Written by Greek Boston in Authentic Greek Food Recipes, Greek Desserts Recipes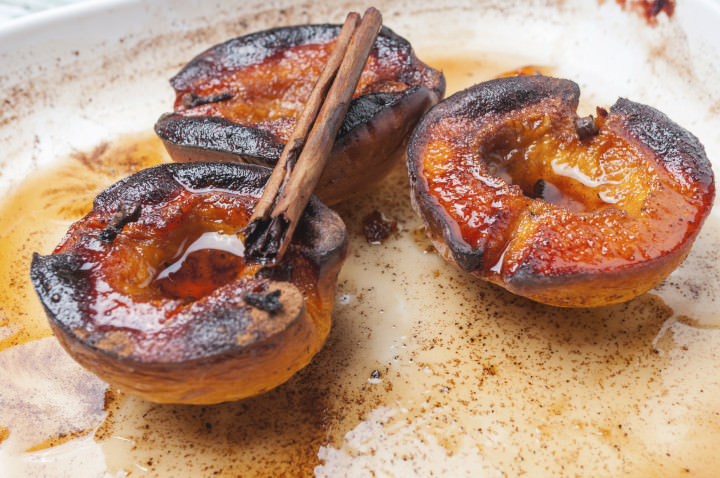 Kithonia Psita are a Greek fruit preserve that make for a light and healthy dessert option.
Baked Greek Style Quinces Recipe Ingredients:
4 halved and cored quinces
2 tablespoons cloves
1/2 cup sweet wine (like Mavrodaphne red wine)
1/2 cup cherry liqueur
1/2 cup sugar
1 teaspoon ground cinnamon
2 cups Greek yogurt
How to Prepare Greek Style Baked Quinces:
Preheat the oven to 375 degrees Fahrenheit.
Place the halved quinces, cut side down, in an ovenproof glass that is just large enough to contain them. Pierce each quince half with 2 or 3 cloves.
In a bowl, mix the wine, liqueur, sugar, and cinnamon. Stir and pour over the quinces.
Bake for about 1 1/2 hours, basting frequently with the juices.
Let quinces cool, then serve topped with yogurt and a teaspoon of quince spoon sweet, if you like.
**Please Note:  Recommended cook times for GreekBoston.com Greek recipes vary depending on elevation, environmental conditions, the cookware being used, and the nature of the oven or stove. Although we have given approximations, these don't always take into account your unique environment.
PLEASE NOTE: Greek recipes can be slightly different based on a variety of reasons, such as the region of Greece that the recipe is being made in. If you have seen this Greek recipe made another way, please send us an email to greekboston@worldwidegreeks.com and we will evaluate your suggestion. Thanks!
Categorized in: Authentic Greek Food Recipes, Greek Desserts Recipes
This post was written by Greek Boston