Easy Greek Grilled Sandwiches (Tost!)
Written by Greek Boston in Authentic Greek Food Recipes, Quick and Easy Greek Recipes Comments Off on Easy Greek Grilled Sandwiches (Tost!)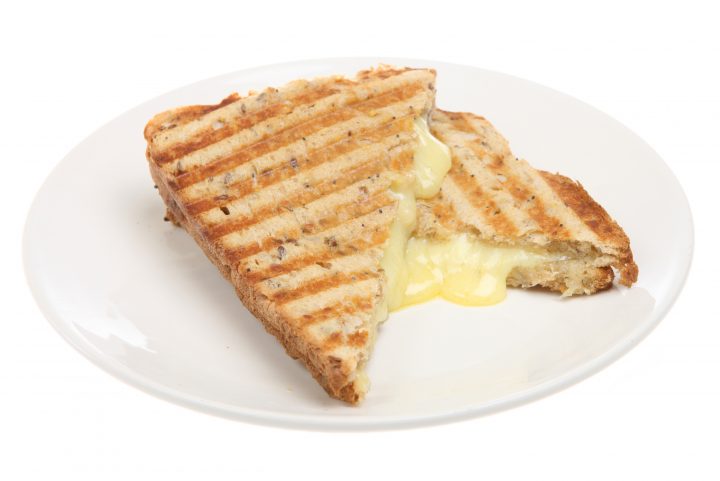 Grilled sandwiches, or "Tost" are a staple food in Greece. This is unexpected because this particular food isn't associated with Greek cuisine. Yet, they are a mainstay of Greek street food and are present on restaurant, cafe, and taverna menus all over Greece. Think of them as a classic grilled cheese sandwich, but with a Greek twist. You can easily make them at home.
Easy Greek Grilled Sandwiches (Tost) Recipe Ingredients:
2 Slices of Bread for each sandwich
Cheese of choice – Greek when possible – I like a combination of Feta and Kasseri or Mozzarella – you can just eyeball the cheese choice
Sliced meat, if desired (like ham, sliced loukaniko, turkey, salami, etc)
Other ingredients, if desired – Experiment with things like chopped bell peppers, chopped tomatoes, sliced olives, etc
Olive oil and/or butter for the bread
How to Make Greek Grilled Sandwiches (Tost):
Toast the bread slices before you assemble the sandwiches. You'll want to toast it to medium, since you will also be running the sandwiches through the broiler.
After toasting, brush the slices of bread with olive oil.
Preheat the broiler. Spray the broiler with nonstick cooking spray or brush with olive oil.
Place each toasted slice of bread on a broiler pan (two per sandwich). Place ingredients of choice on each of the slices of bread (you can do this any way you want). It is best to make sure each slice of bread has some cheese on it, though, since the cheese melts.
Broil the sandwiches until the cheese melts and the ingredients are heated through. This should take about 5 minutes. Assemble the sandwich halves right after they come out of the oven and serve.
Fun Greek Grilled Sandwich (Tost) Combinations to Try:
Feta, mozarella (or Kasseri) cheese, tomato slices, oregano
Bacon, lettuce, tomato and cheese of choice
Sliced grilled chicken (Greek style!), feta, tomato, oregano
Fresh mozzarella slices, sliced tomato, fresh basil
Sliced gyro meat, tzatziki, diced tomato, diced onion
Sliced loukanko, tzatziki, feta, diced tomato
Brie or mozzarella cheese, feta, Greek fresh herbs (parsley, chives, oregano, basil)
As you can see, you can try any combination you want. Get started with some of the above suggestions, or make up your own!
PLEASE NOTE: Greek recipes can be slightly different based on a variety of reasons, such as the region of Greece that the recipe is being made in. If you have seen this Greek recipe made another way, please send us an email to greekboston@worldwidegreeks.com and we will evaluate your suggestion. Thanks!
Categorized in: Authentic Greek Food Recipes, Quick and Easy Greek Recipes
This post was written by Greek Boston