Recipe for Greek Style Meatballs
Written by GreekBoston.com in Authentic Greek Food Recipes, Greek Style Minced Meat Recipes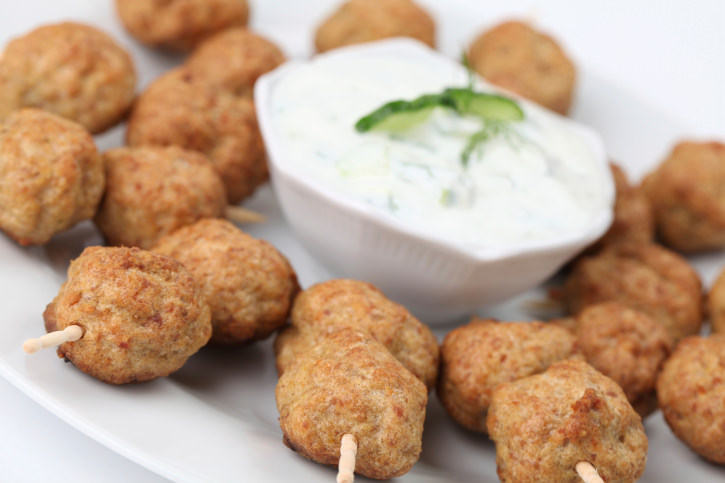 Savory Greek meat patties called keftethes can be served as an appetizer or as a main course at any Greek table.
Greek Style Meatballs (Keftethes) Recipe Ingredients:
1 lb. ground beef
1 slightly beaten egg
1/4 lb. breadcrumbs
1/2 cup water
2 tablespoons butter
2 chopped onions
2 teaspoons salt
1/2 teaspoon pepper
1 tablespoon vinegar
1 teaspoon dried herbs (such as dill, oregano, parsley, or mint)
1/2 cup flour
1/2 cup olive oil
Instructions on How to Make Greek Style Meatballs:
Mix together the ground beef, egg, breadcrumbs and water.
Add butter to a frying pan and set the heat on medium. Add the chopped onions and saute until translucent.
Add to the meat mixture with the salt, pepper, vinegar, oregano, chopped parsley or mint.
Mix well, cover and refrigerate 1 hour.
Shape into 18-20 patties and roll lightly in flour.
Fry in very hot olive oil until brown.
Note: Instead of bread crumbs, some use slices of bread soaked with milk or water. For this recipe, about one slice of bread soaked in water or milk. Eliminate the bread crumbs and water if you decide to use this.
PLEASE NOTE: Greek recipes can be slightly different based on a variety of reasons, such as the region of Greece that the recipe is being made in. If you have seen this Greek recipe made another way, please send us an email to greekboston@worldwidegreeks.com and we will evaluate your suggestion. Thanks!
Categorized in: Authentic Greek Food Recipes, Greek Style Minced Meat Recipes
This post was written by GreekBoston.com