Recipe for Greek Style Octopus with Garlic Sauce
Written by Greek Boston in Authentic Greek Food Recipes, Greek Style Seafood Recipes Comments Off on Recipe for Greek Style Octopus with Garlic Sauce
This traditional dish is either served as a meze or as part of the main meal. It originates on Kephalonia but can be found throughout Greece. This is an especially good dish when served with Greek village salad and plenty of crusty Greek bread to soak up the juices from the flavorful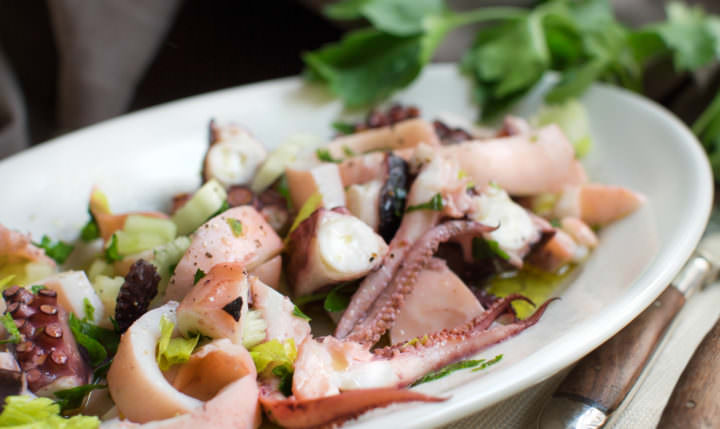 sauce.
Greek Style Octopus with Garlic Sauce (Ktapodi me Skordalia) Recipe Ingredients:
2 pounds cleaned, fresh octopus (whole)
1 recipe skordalia
1 tablespoon capers
Directions on How to Prepare Greek Octopus With Skordalia:
Place the octopus in a heavy pot without any water or liquid in it and cook over medium heat for ten minutes. The octopus will naturally release its own juices as it cooks so there is no need to add any water. After ten minutes, reduce the heat to low and simmer for an additional twenty minutes or so. You will know the octopus is ready because it will be completely tender all the way through.
Remove the pan from the heat. Drain out the juice from the pot into a dish and set it aside. Let the octopus sit for a minute or two to let it cool and then cut it into small pieces. Arrange the pieces on a serving platter.
In a small dish, mix the reserved cooking liquid with the skordalia. Pour the sauce over the octopus and sprinkle with the capers. Serve with slices of bread.
PLEASE NOTE: Greek recipes can be slightly different based on a variety of reasons, such as the region of Greece that the recipe is being made in. If you have seen this Greek recipe made another way, please send us an email to greekboston@worldwidegreeks.com and we will evaluate your suggestion. Thanks!
Categorized in: Authentic Greek Food Recipes, Greek Style Seafood Recipes
This post was written by Greek Boston