Recipe for Koulourakia Voutirou – Greek Butter Cookies
Written by Greek Boston in Authentic Greek Food Recipes, Greek Desserts Recipes, Greek Easter Traditions, Greek Pastry and Greek Cake Recipes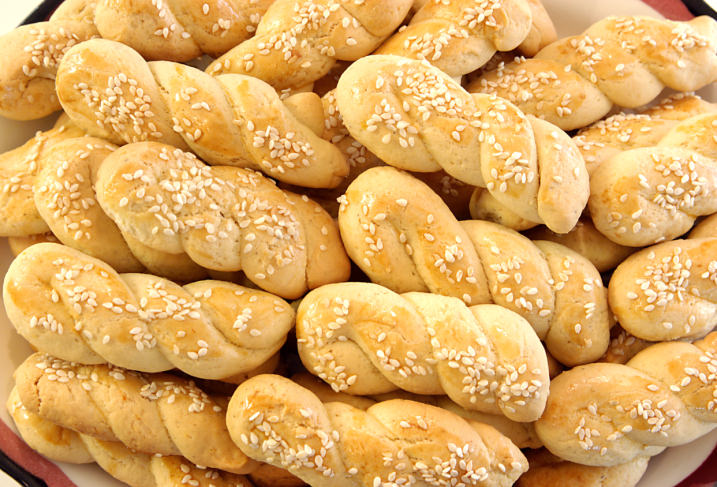 These butter cookies are traditionally made in Greece during celebrator occasions such as Easter and Christmas. Be sure to dunk them in your morning coffee, just like the Greeks do! The name "Koulourakia" originates from their round, twisted shape.
Greek Butter Cookies Recipe Ingredients:
3/4 cup butter
3/4 cup sugar
2  large eggs
1 teaspoon vanilla extract or 1/2 teaspoon ground mastic
2 tablespoons Metaxa (Greek Brandy)
1 teaspoon orange zest
3 1/2 cups all-purpose flour
2 teaspoons baking powder
1 large egg, beaten
Instructions to Bake Greek Butter Cookies:
Preheat the oven to 350 Degrees Fahrenheit.
Add butter and sugar to a medium bowl and cream together using an electric mixer that has been set on medium speed.
Slowly add the eggs and beat until the mixture is light and fluffy. Beat in the vanilla, Metaxa, and orange zest.
Sift the flour and baking powder together in a large bowl. Set the mixer on low speed and slowly add the flour mixture. Turn off the mixer once the flour has all been added and knead the mixture for 20 seconds. Cover the bowl with plastic wrap and chill the dough for 1 hour.
Remove the dough from the refrigerator. Pinch off about 1 inch of the dough and roll into a rope. From there, you can form them into rings or twist them into ropes, as pictured.
Place cookies on greased baking sheets. Brush with the beaten egg using a pastry brush. Sprinkle with sesame seeds (optional). Place baking sheets in the center of the oven for about 10-12 minutes, or until the cookies are golden brown.
**Please Note:  Recommended cook times for GreekBoston.com Greek recipes vary depending on elevation, environmental conditions, the cookware being used, and the nature of the oven or stove. Although we have given approximations, these don't always take into account your unique environment.
PLEASE NOTE: Greek recipes can be slightly different based on a variety of reasons, such as the region of Greece that the recipe is being made in. If you have seen this Greek recipe made another way, please send us an email to greekboston@worldwidegreeks.com and we will evaluate your suggestion. Thanks!
Categorized in: Authentic Greek Food Recipes, Greek Desserts Recipes, Greek Easter Traditions, Greek Pastry and Greek Cake Recipes
This post was written by Greek Boston