Recipe for Greek Style Roasted Pork
Written by Greek Boston in Authentic Greek Food Recipes, Greek Style Meat Recipes Comments Off on Recipe for Greek Style Roasted Pork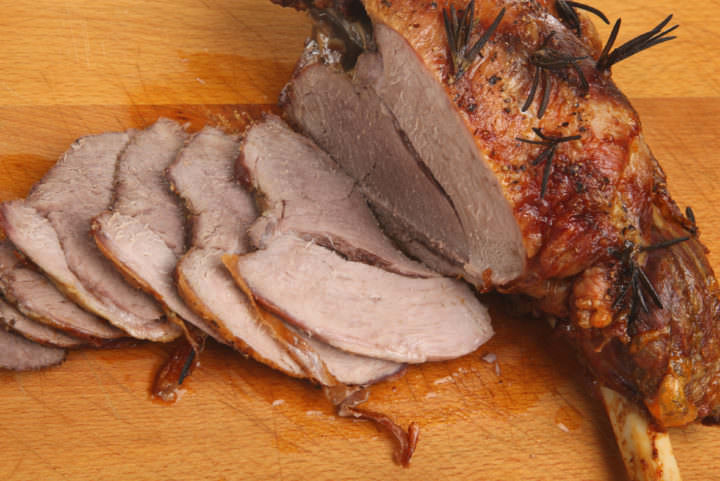 Pork is a common meat in Greece. This roasted pork has distinctly Greek flavors, such as Greek oregano and lemon wedges. Feel free to place some potatoes, such as these lemon potatoes, in the roasting pan with the pork so they can be done at the same time.
Greek Style Roasted Pork Recipe Ingredients:
1 boneless pork roast, about 4-5 pounds
1 teaspoon salt
1/2 teaspoon black pepper
1 teaspoon Greek oregano
1 recipe ladolemono
Instructions on How to Make Greek Style Roasted Pork:
Preheat the oven to 375 degrees Fahrenheit.
Trim the excess fat off the pork roast and place in the roasting pan.
Add the salt, pepper, and oregano to a small dish and then rub the mixture onto the pork roast.
Prepare the ladolemono according to the recipe instructions. Brush the roast on all sides with the mixture.
Place the roasting pan in the center of the preheated oven. Let the meat roast until cooked all the way through. This should take about an hour and a half.
PLEASE NOTE: Greek recipes can be slightly different based on a variety of reasons, such as the region of Greece that the recipe is being made in. If you have seen this Greek recipe made another way, please send us an email to greekboston@worldwidegreeks.com and we will evaluate your suggestion. Thanks!
Categorized in: Authentic Greek Food Recipes, Greek Style Meat Recipes
This post was written by Greek Boston