Recipe for Briami – Greek Style Baked Summer Vegetables
Written by GreekBoston.com in Authentic Greek Food Recipes, Greek Orthodox Fasting Lenten Recipes, Greek Vegan Food Recipes, Greek Vegetable Recipes
A big pile of colorful, fresh baked summer vegetables that needs hardly any extra seasoning to taste delicious is the perfect dish for any table. Briami, also known as Tourlou-tourlou, is a traditional Greek vegetarian dish and perfect for when your garden produces more zucchini than you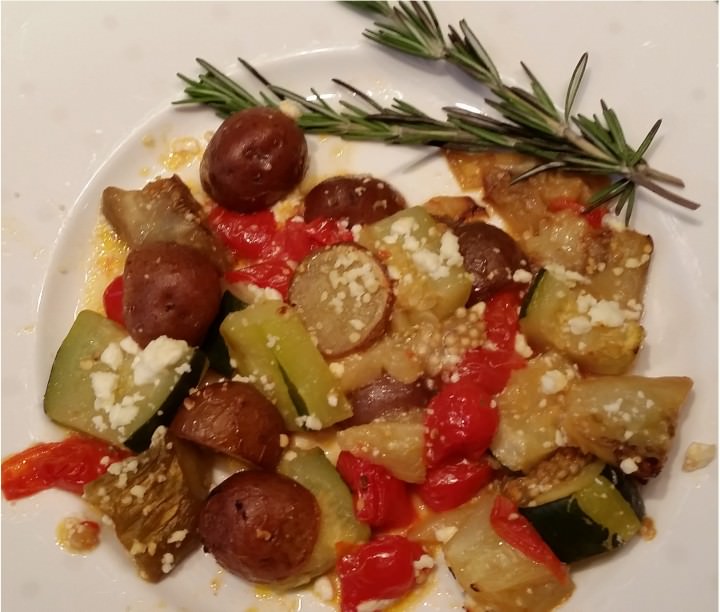 can handle!
Greek Style Baked Summer Vegetables (Briami) Recipe Ingredients:
1 lb. zucchini
1 lb. eggplants
1 lb. peeled potatoes
2 sliced onion
2 sliced green peppers
1 1/2 lbs. tomatoes
1 1/2 cups olive oil
Pepper
Salt
Chopped parsley
1/2 -1 cup Feta Cheese to taste (optional)
How to Prepare Greek Style Baked Summer Vegetables:
Preheat oven to 350 Degrees Fahrenheit.
Scrape and wash zucchini. Slice all vegetables in 1/2 inch pieces.
Arrange in baking pan.  Add olive oil and one cup hot water.  Sprinkle with salt, pepper and parsley.
Cover and bake for 1 1/2 hours. Uncover for the last 30 minutes.
Some people like to give it a little extra flavor by sprinkling some Feta cheese on top for the last 10 minutes of baking.
** This recipe contains olive oil, so this recipe won't be suited for a strict fast.
Categorized in: Authentic Greek Food Recipes, Greek Orthodox Fasting Lenten Recipes, Greek Vegan Food Recipes, Greek Vegetable Recipes
This post was written by GreekBoston.com
Like this article? Please share below: