Recipe for Greek Style Zucchini Blossoms Stuffed with Bulgur
Written by Greek Boston in Authentic Greek Food Recipes, Greek Orthodox Fasting Lenten Recipes, Greek Vegan Food Recipes, Greek Vegetable Recipes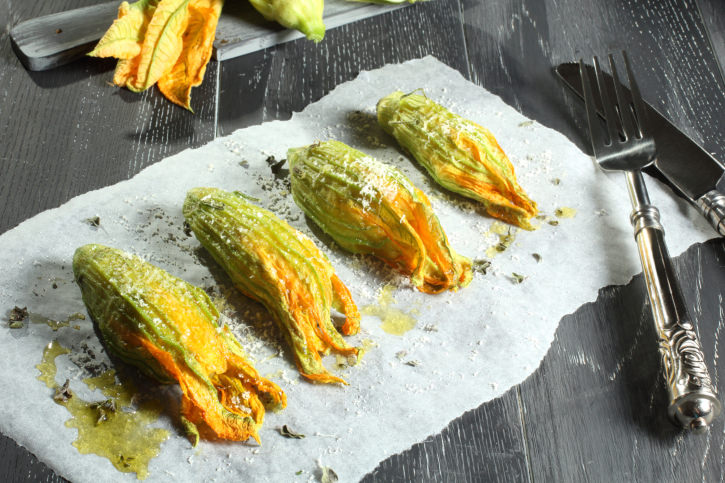 Bulgur wheat is found in cuisines around the Middle East, as well as a popular grain in Greek cooking. This delicious stuffed zucchini recipe can be served as either a side dish or a vegetarian main dish.
Greek Style Zucchini Blossoms Recipe Ingredients:
1 cup olive oil
1 cup, chopped onion
1 cup, chopped chives
3 cloves, minced garlic
1 cup, grated zucchini
1 cup bulgur (cracked wheat)
2/3 cup (optional) raisins
1/2-1 teaspoon chili pepper
1 1/2 cups water
1/2 cup (optional) pine nuts
3 tablespoons, chopped fresh mint leaves
Pepper
Salt
20 -25 zucchini blossoms
3 cups yogurt
How to Prepare Greek Style Stuffed Zucchini Blossoms:
Preheat the oven to 375 degrees F.
In a deep skillet, heat half the oil over medium heat and sauté the onion, chives, and garlic until soft, about 5 minutes.
Add the zucchini, bulgur, raisins, chili pepper, and 1 cup water. Reduce the heat and simmer for 10 minutes. Add a little more water if all is absorbed.
Turn off the heat and add the pine nuts, mint, and dill to the stuffing. Season with salt, stir, and taste. Add more salt and pepper if needed.
Using a spoon, carefully stuff each blossom.
Fold the top over and place on their sides, very closely together, in an earthenware casserole.
Pour the remaining olive oil and 1/2 cup water.
Cover the dish and place in the oven.
Bake for about 1 hour, checking periodically to see if a little more water is needed, until most of the liquid has been absorbed.
Serve hot or cold, accompanied by yogurt.
** This recipe contains olive oil, so this recipe won't be suited for a strict fast.
**Please Note:  Recommended cook times for GreekBoston.com Greek recipes vary depending on elevation, environmental conditions, the cookware being used, and the nature of the oven or stove. Although we have given approximations, these don't always take into account your unique environment.
PLEASE NOTE: Greek recipes can be slightly different based on a variety of reasons, such as the region of Greece that the recipe is being made in. If you have seen this Greek recipe made another way, please send us an email to greekboston@worldwidegreeks.com and we will evaluate your suggestion. Thanks!
Categorized in: Authentic Greek Food Recipes, Greek Orthodox Fasting Lenten Recipes, Greek Vegan Food Recipes, Greek Vegetable Recipes
This post was written by Greek Boston