About Imerovigli, Greece
Imerovigli is a village on the Greek island of Santorini. The village is famous for its unique and beautiful sunset that its nickname is "balcony to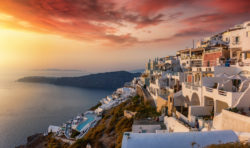 the Aegean." The name Imerovigli comes from the word vigla, which means "view spot." The houses of the village are strategically built around the caldera.
Imerovigli is home to an old Venetian castle that was built in 1207 AD. You will also find the Monastery of Saint Nikalaos and an Orthodox church named Church of the Ai-Stratis.
Skaros was considered one of the most important of Santorini's five castle fortresses, which was located on a rock in front of Imerovigli. The rock was inhabited during medieval times as the fortress provided protection from pirates. The castle was built in the 13th century, but abandoned in the early 1800s. An earthquake caused damage to part of the island and only the hill of Skaros is left.
The village of Imerovigli would allow a clear view of the caldera, which allowed residents to see when pirate ships were approaching.
The village of Imerovigli offers a selection of hotels, taverns, and cafés, offering amazing views of the caldera.
Top Attractions in Imerovigli, Greece
Skaros Rock – A unique landmark that shouldn't be missed. The walk is worth the view you will get of Fira and Oia. An amazing rock formation along with ruins to explore.
Panagia Theoskepasti Chapel – A small church located on the cliffs below Skaros Rock. This is a great spot to watch the sunset from.
Anastasis Church – Located in Imerovigli. This church is the traditional white-painted church with a blue dome. Offers a nice view of the sea.
Perissa Beach – 16 km from Imerovigli. Getting to Perissa is possible via Taxi, bus, or car. Along with Perivolos Beach creates one long beach. Perissa beach is organized.
Red Beach – 16 km from Imerovigli. The volcanic rock gives this beach its red color. The beach is narrow and can be crowded during summer, but it's worth it to experience the unique landscape.
INTERESTING ARTICLES ABOUT IMEROVIGLI, GREECE: