About Kos, Greece
Kos is part of the Dodecanese islands in the southwestern Aegean Sea. The Greek island is found off the Anatolian coast of Turkey. It is the third largest of the Dodecanese islands and the second most populous. The main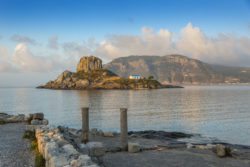 town and port are also called Kos. Other main villages include: Kefalos, Kardamena, Tingaki, Antimachia, Mastihari, Pyli, and Marmari. Smaller villages include: Zia, Zipari, Platani, and Lagoudi. Kos is part of a chain of mountains that broke apart after earthquakes in ancient times. The mountains include Kappari and Kalymnos, which are separated by an underwater chasm.
The island of Kos has been known by many names. Some of the names have included: Stancho, Stanchio, and Stinco. In Italian, the island is known as Coo. Since the name Kos was used in Homer's Iliad, it's been the name used continuously when referring to the island. In English, a person from Kos is called a "Koan."
The island was originally colonized by Carians. The Dorians invaded the island in the 11th century BC. They established a Dorian colony with many settlers from Epidaurus. Their Asclepius cult made their new home famous for its sanatoria. Other sources of the island's wealth came from its wine and silk manufacturing.
Hippocrates, an ancient physician, is thought to have been born in Kos. In the center of Chora is the Plane Tree of Hippocrates, where he is said to have taught. The old limbs of this tree are now supported by scaffolding. The city is also home to the International Hippocratic Institute and Hippocratic Museum as well as the ruins of Asklepieion, where Herodicus taught Hippocrates medicine.
The island is also home to a 14th century fortress that sits at the entrance of the harbour. It was erected in 1315 by the Knights Hospitaller. There is another fortress from the Byzantine period located in Antimachia.
Administrative Region of Kos Island, Greece
South Aegean
Area of Kos Island, Greece
290.3 km2 (112.1 sq mi)
Population of Kos Island, Greece
33, 388
Top Attractions in Kos Island, Greece
Roman Odeon – Constructed in the 2nd century BC. Just as in the Colosseum in Rome, spectators would come and watch fights between prisoners. Gymnasium and Roman baths also on site.
Asklepieion – An important archaeological site on the island. It was a healing center, which got it's name from Apollo's son Asklepieion, the protector of health and medicine. Located 4 km southeast of Kos Town.
Mastichari Beach – Located 27 km southwest of Kos Town. Soft white sand and emerald water are features of this beach. Organized beach with water sports available.
Lambi Beach – Just 3 km north of Kos Town. An organized beach with sun beds and umbrellas. This beach is family friendly with water sports available.
Nerantzia Castle – Also known as the Castle of the Knights. This castle is found at the entrance of the port at Kos Town. Built in the 14th century by the Knight of Saint John.
Plateia Planou – This is the square where you will find the Hippocrates Plane Tree. Hippocrates taught his students here. Enjoy a view of the historical spot while enjoying a drink and snack at a nearby café.
Therma Beach – Therma hot springs were discovered in 1934 by an Italian archaeologist. The hot springs feed into the ocean at Therma Beach for a natural spa experience. Beach is covered in smooth pebbles and rock formations.
Casa Romana – A Roman mansion with an architectural style that dominated the island during the Hellenistic and Roman Times. Mosaics date from the 3rd century AD. Mansion also features frescos including one depicting a panther attacking a bear.
Kamari Beach – A long beach that makes for a nice walk along the shore. Crystal-clear water and nice sand are features at this organized beach. Water sports such as windsurfing are available.
Aquatica Water Park – Located just outside of Kos Town. Fun for all ages. Water slides, swimming area, lazy river, and activities for the whole family.
BELOW ARE INTERESTING ARTICLES ABOUT KOS, GREECE: