Know the Public Holidays in Greece
Written by Greek Boston in Learn How to Speak Basic Greek Comments Off on Know the Public Holidays in Greece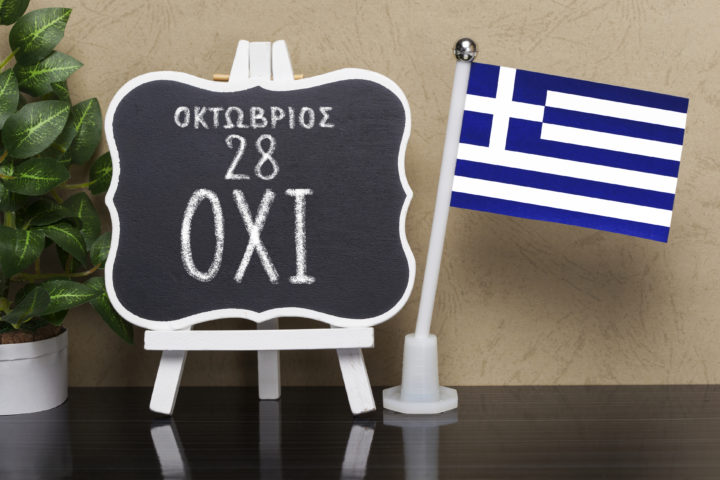 While working your way through the Greek language, you may notice that the Greek people really enjoy taking time off from work. Public holidays are a great way for people to relax and unwind. They seem to have more public holidays than other countries do, and the people often use these days as a chance to spend time with friends or family. This article will show you the Greek words for all of these holidays, which will be relevant for you especially while in the country.
What Happens in Greece During Public Holidays
During public holidays, almost everything in Greece completely shuts down. Here in the United States, it is often the case that some places do remain open depending on which holiday it is. In Greece, it is very rare for things to remain open and most shops, banks, and government buildings are closed. Some shops and restaurants do remain open in certain areas, especially those places that tend to get a lot of tourists. However, you really can't rely on that. It is better to assume that nothing will be open during these days. Most people are eager for some time off and it is not uncommon for people to travel to other areas of Greece to visit family.
Overview of the Public Holidays in Greece
It is important to know that in addition to these special public holidays, Greek law indicates that every Sunday (Κυριακή – Kiriaki) of the year is also considered to be a public holiday. Here is a look at the holidays:
New Year's Day – January 1st – Πρωτοχρονιά – Protohonia
Epiphany – January 6th – Θεοφάνεια – Theophania
Clean Monday – Varies Yearly – Καθαρά Δευτέρα – Kathara Theftera
Independence Day – March 25th – Εικοστή Πέμπτη Μαρτίου – Ikosi Pemti Martiou
Good Friday – Varies Yearly – Μεγάλη Παρασκευή – Megali Paraskevi
Easter – Varies Yearly – Κυριακή του Πάσχα – Kiriaki Tou Pascha
Easter Monday – Varies Yearly – Δευτέρα του Πάσχα – Theftera Tou Pascha
Labor Day – May 1st – Εργατική Πρωτομαγιά – Ergatiki Protomagia
Pentecost – Varies Yearly – Πεντηκοστή – Pentakosti
Dormition of the Virgin Mary – August 15th – Κοίμηση της Θεοτόκου – Kimisi tis Theotokou
Ochi Day – October 28th – Το Όχι or Ημέρα του Όχι – Ti ochi o Imera tou Ochi
Christmas – December 25th – Χριστούγεννα – Christouyenna
The holiday on August 15th is a big one in Greece. Many have a lot of time off surrounding that date, and a lot of Greece may feel like it has "shut down" as families travel to other places, such as the islands, to visit friends and family or to take vacations of their own. Although summer is peak tourist season for people traveling to Greece, this doesn't stop people from taking time off and closing down shops and restaurants if they decide to take a vacation.
Source:
Wikipedia – Public Holidays in Greece
---
The Learn Greek section on GreekBoston.com was written by Greeks to help people understand the conversational basics of the Greek language. This article is not a substitute for a professional Greek learning program, but a helpful resource for people wanting to learn simple communication in Greek.
Categorized in: Learn How to Speak Basic Greek
This post was written by Greek Boston