About Lefkada, Greece
Lefkada is a Greek island in the Ionian Sea.  There is a myth about Sappho's suicide that occurred at Cape Lefkada. This myth links others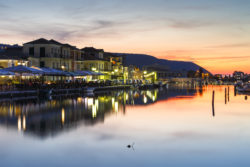 such as Aphrodite and Odysseus to the island as well. A German achaeologist by the name of Wilhelm Dorpfeld, as well as local tourism officials, have suggested that Lefkada is Homer's Ithica. Dorpfeld got funding to perform excavations by making this suggestion. The tourism board found passages in Homer's Odyssey that seem to point to Lefkada as being Ithica.
Until 1295, Lefkada was part of the Despotate of Epirus. At that time it was passed to Despot Nikephoros I to his son-in-law John Orsini. At the beginning of the 14th century, The Castle of Santa Maura was built. Possession of this castle was key to holding the island. In 1331, the Orisini family lost the castle to the Angevins. Then in 1343, Walter of Brienne gave Lefkada and the Castle of Santa Maura to a Venetian by the name of Graziano Giorgio. In 1479, the Ottoman's would conquer Lefkada and rebuild the castle as a larger, more Ottoman style structure.
The Venetians would hold Lefkada between 1500 – 1503 before returning to Ottoman rule by way of a peace treaty. Ottoman's would again lose its hold on Lefkada to Venice in 1684 after a 16-day siege. In 1800, a Russian protectorate called the Septinsular Republic, was established. The Russian Empire would recruit troops from fugitive klephts (highway men) and armatoloi (irregular soldiers), mainly from Lefkada.
In 1815, Lefkada would be one of seven Ioanian Islands to become part of the United States of Ioanian Island, which was set up by Great Britian. This remained in place until 1864 when the islands were ceded to Greece.
Administrative Region For Lefkada Island, Greece
Ionian Islands
Area Of Lefkada Island, Greece
333.6 km2 (128.8 sq mi)
Population Of Lefkada Island, Greece
22, 652
Top Attractions In Lefkada Island, Greece
Monastery of Faneromeni – Located in Frini this is the most important religious center in Lefkada Island. Tradition says the monastery was built in 1634 on the site of the temple dedicated to Artemis. Two fires have burnt the monastery, but it was reconstructed in the late 19th century.
Agia Mavra Castle – Build in the 14th century, this castle is located in Lefkada Town. When Lefkada was captured by the French and gifted to John who was the Count of Orsini. It is he who build the well-preserved castle.
Egremni Beach – 40 km southwest of Lefkada Town. An impressive beach with a long, sandy coastline and beautiful water. A family friendly beach that is partly organized with steep steps to gain access to beach.
Agios Ioannis. 3 km from Lefkada Town. This beach is known for its winds, so if you're into windsurfing, it's a good choice. Beach is organized.
Dimossari Waterfalls of Nydri – If you enjoy hiking and nature, this is the perfect spot to visit. Located near the seaside village of Nydri. Swim in the crystal clear waters, climb the rocks, and take pictures of the beautiful falls and area.
Agios Ioannis Antzoussis – Located 3 km west of Lefkada Town in Agios Ioannis. This is the oldest church on the island. Dates back to the 16th century and was built by the Franks on the site of an ancient church.
The Lighthouse of Lefkada – Built in 1913, the lighthouse is located in Cape Ducato. The area is popular for scuba diving, but the currents are strong and not recommended for beginners. View Ithaca and Kefalonia from the lighthouse.
The Museum of Phonographs – Located in the main square of Lefkada Town. Founded in 1980 by a private collector. Museum also features items such as old newspapers, old postcards, gun, coins, and jewelry mainly dating from 1880 – 1950.
Vassiliki Beach – 37 km southwest of Lefkada Town. This beach lies around a bay. Famous for its windsurfing and sailing conditions.
Sivota Village – Located on a bay 32 km south of Lefkada Town. A quiet place to stroll during the day becomes more lively at night. Fish taverns, restaurants, and beaches with white sand are features here.
BELOW ARE INTERESTING ARTICLES ABOUT LEFKADA, GREECE: