Saint John the Baptist Celebration on January 7th
Written by Andrew Athanasiou in Greek Orthodox Religious Information Comments Off on Saint John the Baptist Celebration on January 7th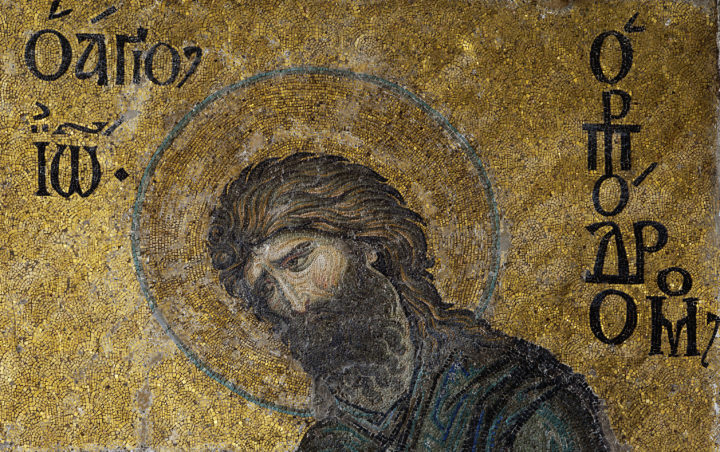 Saint John the Baptist, also known as the Forerunner, is the cousin of Jesus and highest of the prophets. Biblically we know about John's early life from the Gospel of Luke. We find out that his father is Zechariah, a priest, and his wife Elizabeth, who was a descendent of Aaron (the first Priest of Israel, Moses' brother). They were righteous and faithful people, but they had not been blessed with a child, though both were getting old in age.
Zechariah was chosen to out of the priests to offer incense in the sanctuary, which was done once a year. When Zechariah entered the sanctuary the Archangel Gabriel appeared to him and told him that Elizabeth would have a son and that he will name him John. Gabriel continued to say that John will be filled with the Holy Spirit before his birth and that he will bring many people back to God and that he will make ready a people for their Lord. Zechariah questioned Gabriel and because Zechariah did not believe, he was made mute until these things happened.
The Theotokos, after the Annunciation, was also pregnant and went to visit her cousin Elizabeth. When she arrived and greeted Elizabeth, John leaped for joy inside his mother's womb. At this, Elizabeth was filled with the Holy Spirit and recognized that Mary was the mother of her Lord (aka God). The Theotokos remained with Elizabeth about three months, but biblically it seems that Mary leaves before the birth of John.
At the birth of John, Elizabeth says that the boy's name will be John, though none of the relatives are named John, and the people looked to Zechariah to see what he wanted to name the child, and he wrote on a tablet, "His name is John." At this moment, Zechariah was able to speak again and those present began to wonder what this child was to become. Zechariah prophesied that John would be called the prophet of the Most High, to prepare the Lords way, to give knowledge of salvation by forgiveness of sins. And Luke writes, "The child grew and became strong in spirit, and he was in the wilderness until the day he appeared publicly to Israel."
When he appeared publically, John called all to repentance, gave people advice on how to live with love and philanthropy, and baptized people. Many began to wonder if he was the Messiah, but he said that one will come will baptize you with the Holy Spirit, not just water. John did eventually baptize Jesus, too.
Like many prophets, the people of God, especially rulers were scrutinized as a way to lead to repentance and true faith. John did so likewise, speaking out against King Herod Antipas (son of Herod the Great) for imprisoning his brother and taking his wife, Herodias, for his own. Herod feared John and did not want to harm him, but Herodias wanted John dead. At a feast held by Herod, Herodias' daughter danced and made all the people well pleased, and Herod told her that he would give anything she asked for. She asked her mother, and her mother said to ask for John's head, and so she asked for John's head on platter. The King was in a bind, but because he was bound by his oath and those who sat with him, he sent an executioner and John was beheaded.
We celebrate John the Baptist on January 7th, the day after we celebrate the Baptism. We also celebrate the multiple findings of the relic of his head (February 24th, March 25th), his conception (September 23rd), his birth (June 24th) and his beheading (August 29th).
About Andrew Athanasiou
Andrew is a student of Holy Cross Greek Orthodox School of Theology, located in Brookline, Massachusetts. Andrew is a Masters of Divinity Student who is also a Seminarian. Andrew is from Pittsburgh, Pennsylvania, and his knowledge comes from five major sources: Greek Orthodox Seminary; Greek Orthodox Summer Camp; both being taught and teaching in Greek Orthodox Sunday School; and finally further readings and interests in other theological areas.
Categorized in: Greek Orthodox Religious Information
This post was written by Andrew Athanasiou
Like this article? Please share below: