St. Alexander Orthodox Saint History and Name Day Information
Written by Greek Boston in Ancient Greek History, Greek Orthodox Religious Information Comments Off on St. Alexander Orthodox Saint History and Name Day Information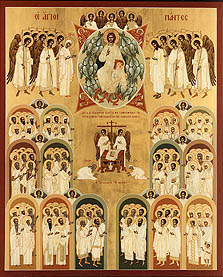 It's true that the saints are an important part of Orthodox Christianity and we celebrate these saints on feast days throughout the year. Some people are even named after these saints, and those who are celebrate their name days o n the feast days. As a result, it is a good idea to learn about the lives of the saints, since they are such an important part of our church history.
Saint Alexander of Constantinople is one of these saints. His feast day is celebrated on August 30th of each year. Here's more information about who he was and the impact he had on the early church:
About Saint Alexander
It is unclear as to when Alexander of Constantinople, or Saint Alexander, was actually born. Church history places his birth somewhere in between 237 and 244 AD. We don't exactly know where he was born, but we do know that he eventually died in Constantinople Beyond that, not much is known about his life before he came to serve the Lord and the church, but we do have considerable details about his life while he was part of the church clergy.
For example, he is well known as being one of the participants of the First Ecumenical Council of Nicea, which was set up to establish certain elements of the church, such as an early version of the Creed that we still recite to this day. Also during the council, Alexander is said to have experienced conflict concerning Arianism, a rising religious movement at the time that wasn't considered to be in line with the Orthodox Church.
Before that, however, he needed to get consecrated as a bishop. He took over as bishop of Constantinople after the prior bishop before him passed away. We know that Alexander was 72 years old when he was consecrated, but since we don't know exactly when he was born, it is hard to say what year that actually took place.
Hymns of Saint Alexander
There are some hymns that can be found in the Orthodox Christian church service that celebrate Saint Alexander. Here are the details:
Troparion (Tone 4)
O God of our Fathers, always act with kindness towards us; take not Your mercy from us, but guide our lives in peace through the prayers of the Patriarchs Alexander, John, and Paul.
Kontakion (Tone 8)
Set aflame by the love of Christ, O glorious ones, you took up the yoke of His precious Cross revealing yourselves as followers in His footsteps by your way of life, and you became partakers of His divine glory, divinely-wise Alexander, with wonderful John and glorious Paul. As you stand before His throne, earnestly pray for our souls.
Saint Alexander's name day is celebrated on August 30th. Check the Name Day page for more information about other Orthodox Christian name days.
Source:
Orthodox Wiki – Alexander of Constantinople
Source for Photo Credit for Image Above
Categorized in: Ancient Greek History, Greek Orthodox Religious Information
This post was written by Greek Boston