St. Benedict Orthodox Saint History and Name Day Information
Written by Greek Boston in Ancient Greek History, Greek Orthodox Religious Information Comments Off on St. Benedict Orthodox Saint History and Name Day Information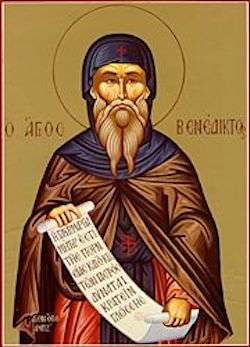 There's no doubt that the saints are important to Orthodox Christians. Each saint has his or her own feast day and these are celebrated around the same time each year. Many are even named after these saints, and those who are celebrate their name day on the saint's yearly feast day. 
Benedict is one of the saints that Orthodox Christians learn about and are named after. He came from Nursia, which is in Italy. His name day is celebrated on March 14th of each year. Here's more information about this saint:
About Saint Benedict
Saint Benedict, also known as Benedict of Nursia and known as the "Father of Wester Monasticism", is one of the saints of the Orthodox Christian Church. He was born in Nursia, Italy in 470 AD. Not much is known about his childhood but we do know that he was sent to Rome in order to go to school. He was ultimately unhappy with this path and instead he chose to reject the world and all materialism that came with it.

He fled Rome to become a monk. He lived here for a while but then fled once again to live in a cave near Subiaco. The cave itself was near a villa that the Emperor Nero built. He lived in this cave for three years. It was a solitary existence and he spent the whole time in prayer. However, God didn't want him to remain in this solitary life. Once nearby monks heard about him and eventually asked him to become their abbot. 
Although he did agree to being their abbot, he wasn't well received there. He favored an ascetic life and the men in the monastery didn't agree with it. They actually tried to poison him while he was there. He managed to avoid  being poisoned because when he did the cross over the cup, it shattered, thus sparing him. After this, he returned to his cave. It is also believed that Benedict had a sister who lived in another monastery.
Hymns of Saint Benedict
Saint Beneduct's feast day is held on March 14th of each year. There are some special hymns that are sung or chanted in his honor. These hymns are usually sung on his feast day. Here are the words to the hymns after they were translated into English:
Troparion (Tone 1)
By your ascetic labors, God-bearing Benedict,
You were proven to be true to your name.
For you were the son of benediction,
And became a rule and model for all who emulate your life and cry:
"Glory to Him who gave you strength!
Glory to Him who granted you a crown!
Glory to Him who through you grants healing to all!"
Kontakion – Tone 6
You were enriched with God's grace;
Your works agreed with your name,
O Benedict, helpful servant of Christ God.
Through prayer and fasting you were revealed to be filled with the gifts of the Spirit of God!
You are a healer of the sick, the banisher of demons and speedy defender of our souls!
Saint Benedict.  Check the Name Day page for more information about other Orthodox Christian name days.
Source:
Orthodox Wiki – Saint Benedict – Also Image Source
Categorized in: Ancient Greek History, Greek Orthodox Religious Information
This post was written by Greek Boston