St. Nicholas Orthodox Saint History and Name Day Information
Written by Greek Boston in Ancient Greek History, Greek Orthodox Religious Information Comments Off on St. Nicholas Orthodox Saint History and Name Day Information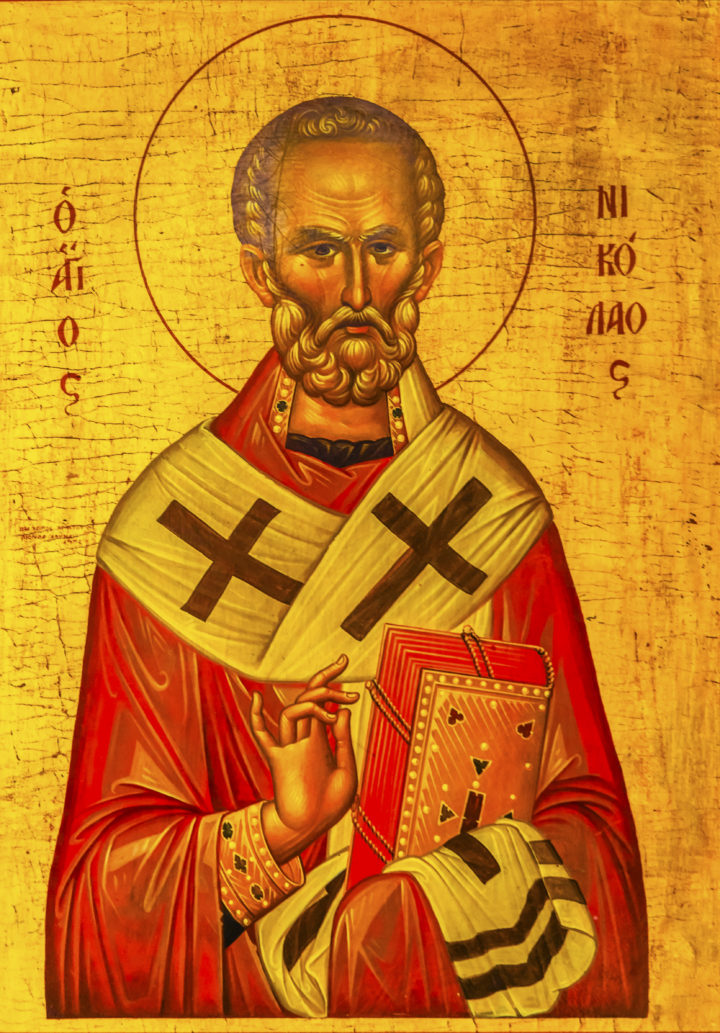 Most of us know the mythical stories of Saint Nicholas that can be found throughout the world. In the United States, for example, tales of Saint Nicholas are often associated with Santa Claus. However, those who really know who Saint Nicholas is know that these stories don't necessarily tell the historical truth of who he is. The reality is, Saint Nicholas is a popular and beloved saint who did a lot of great things for the Orthodox Church.
There are many Orthodox Christians who are named after Saint Nicholas. Those who are celebrate their name day on his yearly feast day, which takes place on December 6th of each year. He is also celebrated on December 6th of each year. Here's more information about who Saint Nicholas was:
About Saint Nicholas
Saint Nicholas, also referred to as Nicholas of Myra or Nicholas the Wonder Worker, is one of the saints of one of the early Orthodox Christian Church. He held the position of Archbishop of Myra, which was a Greek community located in Asia Minor, which is now part of modern-day Turkey. He is also known to have been a part of the Council of Nicaea, which took place in 325 A.D.
Not much is actually known about his life. However, we do know that he was born in Lycia in Asia Minor and that his parents were actually wealthy. We don't know exactly when he was born, we only can get a general sense of when he was alive because of his presence at the Council of Nicaea. We also don't know exactly when he died, but historians guess that it was somewhere in between 342 and 352 AD.
One of the issues that came up during the Council of Nicaea were the Arians, who followed Arius, a Presbyter in Alexandria. The issue with his teachings is that they weren't exactly in line with the Orthodox Church and he was considered to be a heretic. Saint Nicholas did a lot of work to educate people against these false teachings. It is also said that Nicholas did a lot of work to help the poor, which could be why his life developed into the "Santa Claus" legend.
Hymns of Saint Nicholas
There are some hymns that can be found in the Orthodox Christian church service that celebrate Saint Nicholas. Here are the details:
Troparion (Tone 4)
In truth you were revealed to your flock as a rule of faith,
an image of humility and a teacher of abstinence;
your humility exalted you;
your poverty enriched you.
Hierarch Father Nicholas,
entreat Christ our God
that our souls may be saved.
Kontakion (Tone 3)
You revealed yourself, O saint, in Myra as a priest,
For you fulfilled the Gospel of Christ
By giving up your soul for your people,
And saving the innocent from death.
Therefore you are blessed as one become wise in the grace of God.
Saint Nicholas's feast day is celebrated each year on December 6th. Check the Name Day page for more information about other Orthodox Christian name days.
Source:
Orthodox Wiki – Nicholas of Myra (Also photo credit for image above)
Categorized in: Ancient Greek History, Greek Orthodox Religious Information
This post was written by Greek Boston