Orthodox Saint Sozon the Martyr History and Name Day Information
Written by Greek Boston in Greek Orthodox Religious Information Comments Off on Orthodox Saint Sozon the Martyr History and Name Day Information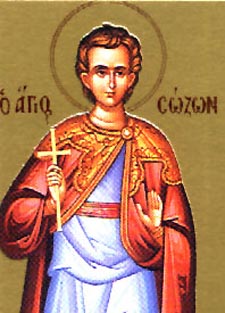 Part of being an Orthodox Christian is understanding how much the early believers in the faith have impacted the faith. Many of these have been recognized as saints, and we honor these individuals each year as a regular part of our church calendar. People, churches, and chapels can all be named after these saints, and if they are, they would celebrate their name day on the saints' feast days.
Saint Sozon the Martyr is one of these saints and he is known for being one of the early martyrs of the church. His feast day is celebrated each year on September 7th. Here's more information about him.
About Saint Sozon the Martyr
Saint Sozon the Martyr, also referred to as Martyr Sozon of Cilicia, wasn't born into the Christian faith. He was born as a pagan and was given the name of Tarasius in his early life. When he converted to Orthodox Christianity and was baptized, he took on the name of Sozon. He was born in Lykaonia and was a shepherd by trade. Other than that, we don't actually know much about him.
However, we do know that once he did convert to Christianity, he was passionate about the beliefs. He often approached defending his beliefs with zeal, and was devoted to letting others know of the truth of Christianity. He was devoted to teaching those around him of the ills of idol worship and paganism. He even once entered a temple of Artemis, cut off a golden hand as part of an idol, and distributed the precious metal to the poor.
His actions did eventually gain the notice of Christian persecutors. He gave himself up to Maximian, the governor at the time that spearheaded Christian persecution. He was beaten and lost his life while in prison.
Hymns of Saint Sozon the Martyr
Saint Sozon the Martyr's feast day is on September 7th of each year. Here are the hymns that are sung during his feast day:
Apolytikion of Martyr Sozon – Fourth Tone
Thy Martyr, O Lord, in his courageous contest for Thee received the prize of the crowns of incorruption and life from Thee, our immortal God. For since he possessed Thy strength, he cast down the tyrants and wholly destroyed the demons' strengthless presumption. O Christ God, by his prayers, save our souls, since Thou art merciful.
Kontakion of Martyr Sozon – Second Tone
As we come together on this day, let us acclaim with a great voice Sozon, the true and God-bearing Martyr, the approved athlete of godliness, the divine initiate of grace, the most bountiful bestower of healings; for he intercedeth with God for us all.
Saint Sozon the Martyr is one of the early saints of the Orthodox Christian Church. Check the Name Day page for more information about other Orthodox Christian name days.
Sources:
Martyr Sozon of Cilicia (Also Image Credit for Photo Above)
Categorized in: Greek Orthodox Religious Information
This post was written by Greek Boston