About Schinoussa, Greece
Schinoussa is a small island that is part of the Naxos and Lesser Cyclades group. The main characteristic of the island of Schinoussa is its beaches.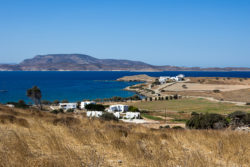 Much of the island is flat, making getting around on foot fairly easy. Mylos is the highest peak of the island at 133 meters. The island of Schinoussa has three settlements: Chora (the capital), Mesaria and Mersini. Mersini is where the port is located.
The island of Schinoussa has been inhabited since antiquity. Excavations have found items such as pottery pieces, tools, and small statues that prove there was activity on the island during the 10th century BC. During Byzantine times, the island would flourish thanks to trade. Many Byzantine churches would be built on the island of Schinoussa at this time. From the 13th century until the 16th century, the Venetians rules the island. The island is first mentioned in old documents that are kept in the Monastery of Hozoviotissa in Amorgos. From the 11th century the island was property of the monastery. During the Turkish rule of the 16th – 19th century, Schinoussa sheltered pirates. During the 19th century, the pirates were confronted by the Navy of Greece and residents of Amorgos would move to the island of Schinoussa.
Administrtive Region for Schinoussa Island, Greece
South Aegean
Area of Schinoussa Island, Greece
8.512 km2 (3.287 sq mi)
Population of Schinoussa Island, Greece
256
Top Attractions in Schinoussa Island, Greece
Church of Panagia Akathi – Located in Chora, this is an important church in Schinoussa as it is considered the protector of the island. Features traditional Cycladic architecture and white and blue colors. Many women on the island have taken their name from this church and are called "Akathi."
Mersini Village – Located 2 km west of the capital village. Fish taverns with fresh fish are found in Mersini. If you enjoy watching boats and ferries come and go, this is the place to visit.
Tsigouri Beach – 2 km southwest of Chora. This is a remote cove the is pebbled and non-organized. The beach can be reached by foot.
Lioliou Beach – 4 km south of Chora in a small bay. This beach is surrounded by coves on all sides. A tavern is located nearby, but the beach is not organized so you'll want to bring supplies.
Mersini Beach – A small, remote cove close to Mersini village. Trees provide natural shade. The calm environment of this beach is perfect for relaxing, swimming, and exploring.
BELOW ARE INTERESTING ARTICLES ABOUT SCHINOUSSA, GREECE: