About Sikinos, Greece
Sikinos is an island in the Cyclades group. It is located between Ios and Folegandros. The island has two villages: Allopronia, which is the port,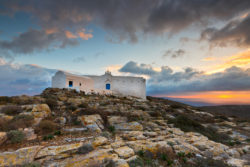 located on the south sea side and Chora, which is in the hills. Chora has two settlements that are next to each other. Castro is to the west and Chorio is to the east.
Sikinos is one of the least populated of the Greek islands, but Chora is one of the most authentic of villages of the Cyclades group. The landscape around Chora is hilly with many vineyards.
The island was once known as Oenoe (wine in Greek), in Ancient Greece. In 604 BC, reference to this name by Solon indicates that the island of Sikinos has been popular for its wine cultivation since those times. The current name of the island, Sikinos, may have come from when the women in Lemnos started to revolt against the men and slaughtered them one by one. Thoas, king of the island of Lemnos, managed to escape by hiding in a trunk that drifted to Oenoe. He would meet a nymph there and they would have a son he named Sikinos. The island was named after the son.
The island of Sikinos has been inhabited since Mycenean times. During the 10th century BC, the Ionians were the first to occupy the island, followed by the Dorians during the 5th century. In 1537, the Turks would conquer and rule the island of Sikinos. During World War II, Sikinos was under German and Italian occupation. The island would become part of the Greek state in 1830.
Administrative Region for Sikinos Island, Greece
South Aegean
Area of Sikinos Island, Greece
42.507 km2 (16.412 sq mi)
Population of Sikinos Island, Greece
273
Top Attractions in Sikinos Island, Greece
Monastery of Episkopi – Located in Chora. This historical site is a Byzantine monastery that was build over a Roman mausoleum.
Byzantine Collection – Located in the central square of Chora. This collection showcases some of the island's most important icons. The icons are only on display during the summer months and moved to Panagia Pantanassa Church during the winter months.
Church of Panagia Pantanassa – Located in Kastro village. This church was built in 1787. During the winter months, the church displays late-Byzantine coins.
Folklore Museum – Located in Chora. Items showcase the island's history. An olive oil press and other artifacts, materials, and displays are available to view.
The Virgin Pandohara Elytis. While he never visited the island, Odysseas Elytis mentioned Sikinos in many of his poems. The church was dedicated to him posthumously. Located in Chora, you can get there by foot or car.
Port Beach – Within walking distance of the port in Chora. The long and sandy beach has sun beds and umbrellas available. There are beach bars nearby.
Malta Beach – 8 km east of Chora. Malta is a small cove that provides much privacy. The beach is not organized and nudist friendly.
BELOW ARE INTERESTING ARTICLES ABOUT SIKINOS, GREECE: