Experience Agioi Anargyroi Beach in Anafi
Written by Greek Boston in About Anafi, Greece, Greek Travel Guide Comments Off on Experience Agioi Anargyroi Beach in Anafi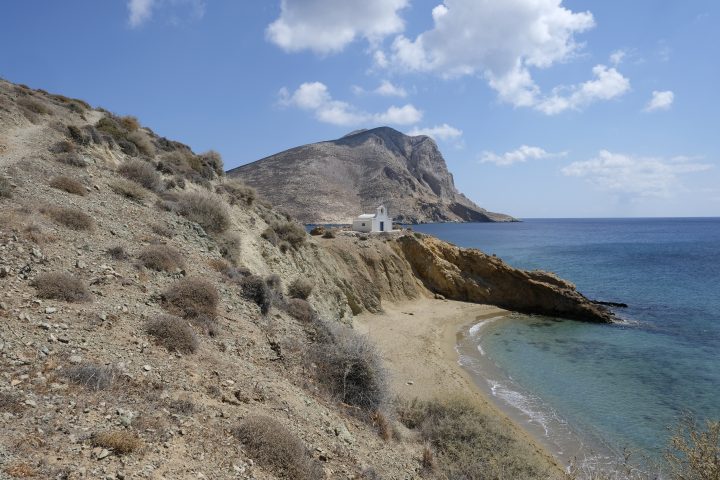 Surrounded by the clear blue waters of the Mediterranean, Agioi Anargyroi Beach is a stunning stretch of white sand that's perfect for sunbathing or swimming. The beach offers many facilities, including showers and restrooms. There are also two restaurants with excellent food just minutes away from this beautiful Greek vacation spot. Here's more information about visiting this beach:
About Agioi Anargyroi Beach
The beach is located in Anafi, one of the smaller islands that belongs to the Cyclades archipelago. The trip from Athens takes about 2 hours with a ferry company. Agioi Anargyroi Beach on the island of Anafi is made up of small pebbles, not sand. If you want to find sand, you'll have to take the ferry over to Paros.
On this page, we're going to give you all the information that you need about Agioi Anargyroi Beach in Anafi. We'll tell you what facilities are available there and where exactly it is so that when you come back from your trip, you can tell your friends all about this beautiful beach.
What to Do at Agioi Anargyroi Beach
Agioi Anargyroi Beach is a popular vacation spot for those looking to rest and relax. There are plenty of amenities offered to make your stay at the beach comfortable, including a beach bar and a restaurant. You can also access many other beaches from here by walking down the cliffs. The Agioi Anargyroi Beach is a top-rated destination for those that want to avoid the more crowded beaches of Mykonos and Santorini.
There are also a number of other activities you can do at Agioi Anargyroi Beach in Anafi. You can go hiking or explore the island, sail on a boat, or even water skiing. The waters are calm, so it's the perfect place to go for a swim, too.
And don't forget to try out some of the Greek food that you can find at Agioi Anargyroi Beach in Anafi! Of course, if you want to cook out on your own, there are barbecue facilities available. Also keep in mind that at the beach, you should be able to find restrooms.
Getting to Agioi Anargyroi Beach in Anafi
Agioi Anargyroi Beach is located on the island of Anafi, the southernmost among the Cyclades islands. The nearest port to get off at is Katapola. Once you get off the ferry, you can walk or take a water taxi to get to Agioi Anargyroi Beach.
The island of Anafi is pretty far from Athens, so it's important to note that your trip is going to take about 2 hours with a ferry company. If you're driving from Athens, reaching Anafi will take you about 4 hours. Make sure to check out one of the car rental companies in Athens.
If you're flying into Athens, it's very likely that your flight lands at Karpathos Island or Rhodos Island instead of Santorini. Both islands are better known for their beaches and nightlife than they are for their neighboring islands. You'll have to get on a connecting flight on one of the smaller, local airlines in order to get on a flight to Anafi.
Agioi Anargyroi Beach in Anafi is a great place to go if you're looking for a bit of peace and quiet. Many famous landmarks such as the Parthenon can be found near here, so you'll have plenty to do during your stay on this beautiful Greek island!
PLEASE NOTE: The Greek travel section at GreekBoston.com are not paid reviews. Our unbiased and informative travel articles are designed review the popular cities, islands and places in Greece. We are not always able to exactly match the photos to the destinations, but we do try to get close. However, we are not looking for photo submissions at this time. If you find something in a Greek travel article that is not accurate based on your personal experience, please send us an email to greekboston@worldwidegreeks.com and we will consider your suggestions. Thanks for reading the travel section at GreekBoston.com!
Categorized in: About Anafi, Greece, Greek Travel Guide
This post was written by Greek Boston
Share this Greek Travel Article: