Lounge on Agios Konstantinos Beach in Antiparos
Written by Greek Boston in About Antiparos, Greece, Greek Travel Guide Comments Off on Lounge on Agios Konstantinos Beach in Antiparos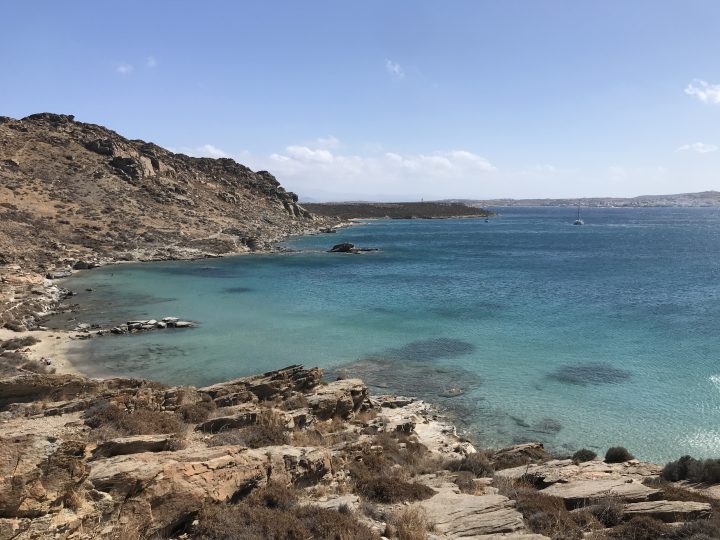 Agios Konstantinos Beach in Antiparos, Greece, is a beautiful place to visit and one of the great beaches in this area of Greece. If you are looking for an idyllic beach experience, this is great spot. In a country where beaches abound, Agios Konstantinos Beach stands out. Here's more information about visiting this beach:
About Agios Konstantinos Beach
Agios Konstantinos is the next town over from Arachova, and it has a nice sandy beach that is great for swimming, snorkeling, and fishing. There are also many restaurants along the beach, so you never have to go hungry! If you want to visit Agios Konstantinos but don't feel like driving there yourself, this area offers plenty of boat tours as well. It's also worth mentioning that this beach is free, unlike other beaches in the area.
Agios Konstantinos Beach, also called Aspros Potamos Beach, is just a few minutes' drives outside Arachova. It's a sandy beach with crystal clear waters. There are plenty of restaurants and snack bars in the area if you get hungry or want to grab something cool to drink. The water here is shallow, so it isn't recommended for swimming, but it's great for snorkeling and fishing! Be sure to bring some snacks, so you don't have to spend money on overpriced food at the restaurants along the beach.
What to Do at Agios Konstantinos Beach
One of the most popular things to do at Agios Konstantinos Beach is go fishing. You can buy a fishing rod from one of the vendors along the beach and fish in the crystal blue waters for your dinner! It's also nice to sit back and relax with a cocktail from one of the restaurants, sip on some cool watermelon juice that you'll find throughout Greece during the summertime, or grab a bite to eat after a day of swimming.
If you go snorkeling, make sure not to disturb any sea life because it's bad for them and you! Although Agios Konstantinos offers calm waters, there are jellyfish, so be careful and other kinds of nasties such as stonefish and cone shells which you can learn about at Marmari Beach in Greece.
Another thing to check out when you visit the area is the lighthouse. There are views of Athens and other nearby towns from this point, and it's a beautiful sight! The hiking trails in the area aren't too strenuous, and they end up right near the lighthouse, so if you're into that kind of activity, you should consider taking on this challenge.
It's also possible to climb down some rocks right next to Agios Konstantinos, where there are fish and corals, so be careful not to touch them or disturb animals while snorkeling. If you don't want to hike all the way down there, you'll still get a great view from above! Agios Konstantinos Beach is one of the best beaches in Arachova, Greece. It has beautiful waters and plenty of restaurants so you won't go hungry.
Getting to Agios Konstantinos Beach
If you're driving from Arachova, follow the signs to Delphi and then Parnassos once you reach the national road. Keep going until it ends, and there is a big intersection where a gas station is located across from a mini-market. You'll see a small sign here for Agios Konstantinos, so follow that route, and you'll end up at the beach.
If you aren't driving, some buses run from Arachova to Agios Konstantinos. It's best to ask your hostel/hotel about the schedule of the bus because it varies depending on the time of year. You can also visit Delphi by bus or train, and then there are more regular routes to Agios Konstantinos for you to take advantage of.
Agios Konstantinos Beach is a great place to visit if you're in the Arachova area or if you want to go out of your way for a nice beach day. It's best to visit this beach when it isn't too busy because the restaurants can get crowded and there aren't any bathrooms nearby, so you'll have to use the bushes! Also, be sure to visit between May and September because that's when the water is warmest. If you decide to stop by during another time of year, remember to bring a jacket just in case.
PLEASE NOTE: The Greek travel section at GreekBoston.com are not paid reviews. Our unbiased and informative travel articles are designed review the popular cities, islands and places in Greece. We are not always able to exactly match the photos to the destinations, but we do try to get close. However, we are not looking for photo submissions at this time. If you find something in a Greek travel article that is not accurate based on your personal experience, please send us an email to greekboston@worldwidegreeks.com and we will consider your suggestions. Thanks for reading the travel section at GreekBoston.com!
Categorized in: About Antiparos, Greece, Greek Travel Guide
This post was written by Greek Boston
Share this Greek Travel Article: