The Ancient Amphitheaters of Greece
Written by GreekBoston.com in About Agistri, Greece, Greek Travel Guide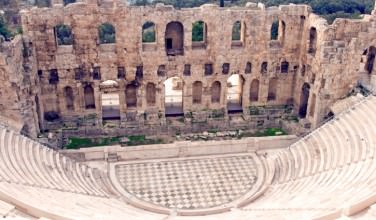 One of the many things that Greece is known for is its beautiful ancient amphitheaters. Visitors to Greece can still enjoy a show at each of these amphitheaters as long as they visit during the appropriate time of year. As opposed to Roman theatres, an integral part of Greek theatres is the lush landscape behind the scene, or the background building to which the platform stage is connected.
Odeon of Herodes Atticus
The Odeon of Herodes Atticus is a stone theatre structure that is located on the southwest slope of the Acropolis of Athens. Wealthy Roman Herodes Atticus in memory of his wife Regilla built it in AD 161. It was excavated in 1857-1858 and completely restored using pentelic marble between 1950-1961. With the Acropolis as a backdrop, the Odeon of Herodes Atticus evokes a sense of history and awe.
The Odeon of Herodes Atticus is a main venue of the Athens Festival, which is part of the Hellenic Festival, Greece's premier cultural festival that features an impressive line-up of local and international music, dance, and theatre. It runs from late May until October each year. Festival patrons sit on cushions on the worn marble seats to enjoy the diverse program of entertainment that has been going strong for more than 50 years.
Memorable modern shows and performances that have been held at The Odeon of Herodes Atticus include the Miss Universe 1973 pageant, Yanni's Live at the Acropolis performance in September 1993, Sting's Mercury Falling Tour on May 17, 1996, Elton John's two concerts at the venue during his Medusa Tour in 2000, and tenor Andrea Bocelli's concert that was held to raise funds for cancer research.
Theatre of Epidavros
Polykleitos the Younger designed the Theatre of Epidavros in the 4th century BC. The original 34 rows were extended in Roman times by another 21 rows. Located on the Peloponnese amid pine-clad hills, it is another beautiful location to enjoy entertainment.
The Theatre of Epidavros is one of the best-preserved Classical Greek structures. It is built of limestone and restored Corinthian pilasters flank the entrance. It seats up to 14,000 people and is known for its symmetry and beauty.
The Theatre of Epidavros is renowned for its amazing acoustics. A coin dropped in the center can be heard from the highest seat. Tour guides have been known to scatter their groups in the stands and show them how easily they can hear the sound of a match struck at center-stage. A 2007 study performed by the Georgia Institute of Technology indicates that the astonishing acoustic properties are the result of the advanced design: The rows of limestone seats filter out low-frequency sounds, such as the murmur of the crowd, and amplify high-frequency sounds from the stage.
Like The Odeon of Herodes Atticus, The Theatre of Epidavros is also used for performances during the annual Hellenic Festival.
Categorized in: About Agistri, Greece, Greek Travel Guide
This post was written by GreekBoston.com
Like this article? Please share below: