Prominent Attractions and Beaches to Visit in Symi, Greece
Written by GreekBoston.com in Greek Travel Guide Comments Off on Prominent Attractions and Beaches to Visit in Symi, Greece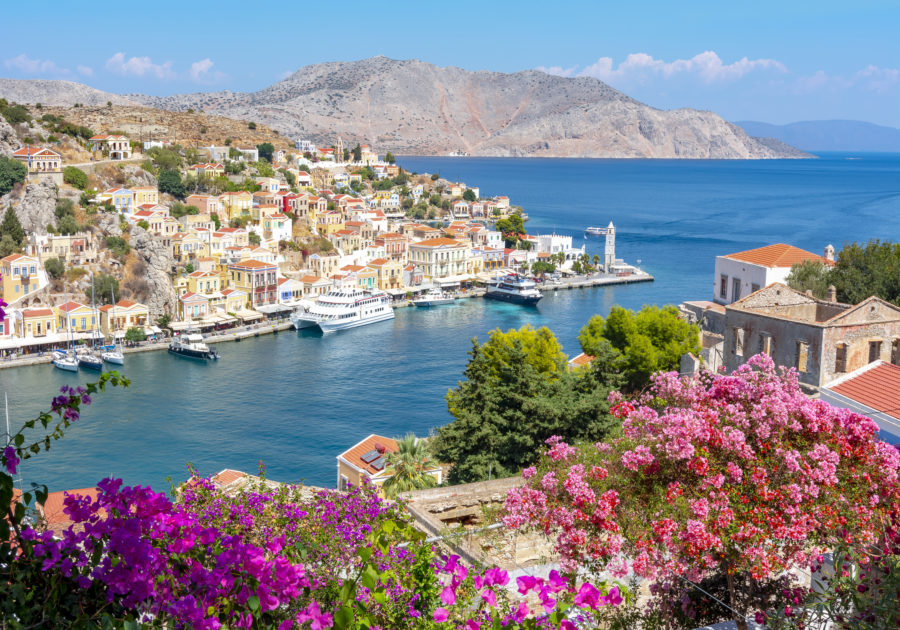 The island of Symi is known for its colorful neoclassical houses, beaches, and the annual music festival. Symi is home to a number of monasteries, museums, and plenty of places to indulge your love of food and drink.
When visiting the island of Symi, you're going to want to see the most prominent places. Whether you're heading to the island for a day or spending more time there, you will find plenty to keep you happy.
Agios Georgios Disalonas Beach
The beach of Agios Georgios Disalonas is one of the most beautiful beaches in all the Aegean. Part of what makes this beach so special to see is the cliff located on site. Th 300 meter cliff is impressive not just in terms of Greek beaches, but in the world. Agios Georgios Disalonas Beach is only accessible by boat, which is a nice trip itself. Enjoy the landscape from the sea. There are no restaurants or taverns available around the beach, so you will need to come prepared with supplies, food, and water. The pebbled beach is located on the eastern side of the island and features emerald waters.
The Castle of the Knights
Located at the highest point of Symi is the Castle of the Knights. This defensive fortress was built by the Knights of Saint John in 1407. The fortress was built on top of the remnants of the ancient acropolis. The walls of the ancient acropolis actually became part of the castle. The castle provided protection against pirate raids. The knights kept their fleet of light ships in a small bay that is not visible from the sea. At the main entrance of the castle you can see an emblem of the Knights. The outer walls that served as defense are all that is left of the castle today. When you visit, you will be treated to panoramic views of the surrounding areas.
Nos Beach
Nos Beach is the closest to the main town of Symi, just 300 meters away. Its proximity from Town means you will have access to any amenities you might need. If you're staying in Symi Town, getting to the beach is quick and convenient. Nos Beach is family friendly and organized. The peddled beach with clean, crystal water has lovely views.
The Monastery of Archangel Michael Panormitis
The Monastery of Archangel Michael Panormitis is an important pilgrimage center. It is located on the southwest side of the island and features an impressive bell tower that was built in the early 20th century. The bell tower is baroque style and resembles the one on the Monastery of Zagorsk in Moscow. The monastery itself was constructed in 1783. Inside the monastery of Archangel Michael Panormitis, you will be able to see the folklore and ecclesiastical collection. There are boat excursions that go from the harbor of Gialos to the monastery.
The island of Symi won't disappoint with its beautiful beaches and one of a kind attractions.
Categorized in: Greek Travel Guide
This post was written by GreekBoston.com
Like this article? Please share below: