Corycian Cave in Arachova is a Must See Attraction
Written by Greek Boston in About Arachova, Greece, Greek Travel Guide Comments Off on Corycian Cave in Arachova is a Must See Attraction
For those who have a sense of adventure, the Corycian Cave is the perfect place to visit. Located in central Greece, Corycian Cave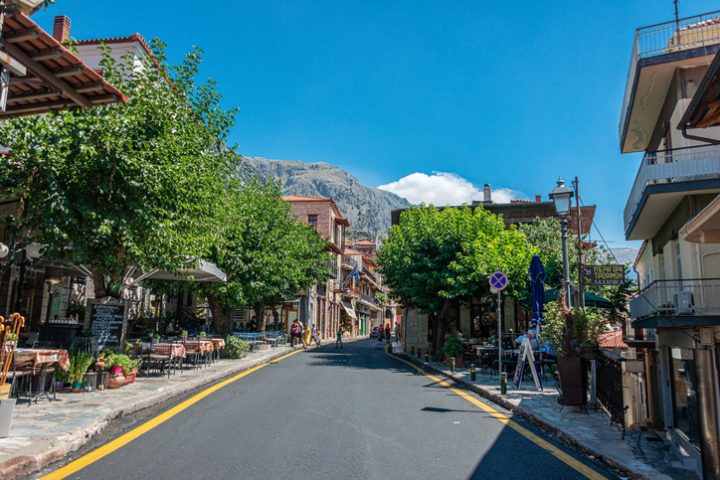 combines rich history with natural environment to form an authentic historical and cultural vacation. The cave forms a divider between 2 vastly different environments: the foothills of Delphi and the mountains. Here is more information that will help you plan a visit to this cave:
About Corycian Cave
Corycian Cave is located in the city of Arachova on Mount Parnassus, which is located in the center of Greece. It's history and origins are deeply rooted in Greek Mythology as it was originally named after a Greek Nymph. The cave was considered a sacred area for the worship of Pan, Dionysis and the Muses.
The Corycian Cave also has more recent roots in history, as it served as a refuge for local peoples across multiple historical wars, including World War II. Archeologists have found thousands of old artifacts, including statues, rings and flutes from thousands of years ago. In more recent years, it has become a lesser-known tourist destination for those looking to learn about history while enjoying themselves in nature.
What to Do at Corycian Cave
The Corycian Cave is large enough to spend time exploring both nature and history. It is almost 60 meters long, 26 meters wide and 12 meters high. If you enjoy the history, you can search for ancient inscriptions within the cave. Although the historical artifacts that were found there have since been removed, there are still natural carvings and artifacts there thought to be part of ancient rituals. There is also thought to be a circular, sacrificial altar in the back of the cave. Visitors should bring a powerful flashlight or headlight to be able to see inside of the cave.
If you're interested in learning about the history of the area, guided tours are available that will tour the cave and surrounding areas. Tour guides are knowledgeable of the rich history and historical artifacts found within the cave. These tours tend to last a full day but give excellent dialogue on the history of the cave and the surrounding area.
Getting to Corycian Cave in Arachova
Corycian Cave can be accessed by car or by foot. If you decide to take a vehicle, be sure to study the route prior to leaving. You can find occasional signs leading to the cave, but they may be difficult to find. The cave is only accessible by dirt road; Due to the terrain, it is recommended to use a 4-wheel drive vehicle.
If you decide to hike to the cave, you can follow an ancient path. This path was used by worshipers of Pan and Dionysis to reach the cave from Delphi. The path begins at the Delphi Archaeological Museum and takes around 3 1/2 hours to complete. Again, those who decide to hike the path should be familiar with the area and take a map.
If you're looking for an adventure, the Corycian Cave in Arachova, Greece is an excellent place to explore nature and history all at once. The Corycian Cave is steeped richly in history and still contains inscriptions and a few artifacts to show its historically essential role in the worship of Greek gods. Visitors can reach the cave by foot or by car; however, those who wish to visit the cave should be knowledgeable of the area or obtain a map prior to traveling.
PLEASE NOTE: The Greek travel section at GreekBoston.com are not paid reviews. Our unbiased and informative travel articles are designed review the popular cities, islands and places in Greece. We are not always able to exactly match the photos to the destinations, but we do try to get close. However, we are not looking for photo submissions at this time. If you find something in a Greek travel article that is not accurate based on your personal experience, please send us an email to greekboston@worldwidegreeks.com and we will consider your suggestions. Thanks for reading the travel section at GreekBoston.com!
Categorized in: About Arachova, Greece, Greek Travel Guide
This post was written by Greek Boston
Share this Greek Travel Article: